Mouser Electronics Inc. is now stocking the OSRAM OSTAR® Projection Power LEDs from OSRAM Opto Semiconductors. These LEDs are based on advanced thin-film and UX:3 chip technologies. They generate luminous flux and radiant intensity from a small surface area. The LEDs are designed for projection applications, embedded projectors, machine vision and 3D scanning and imaging.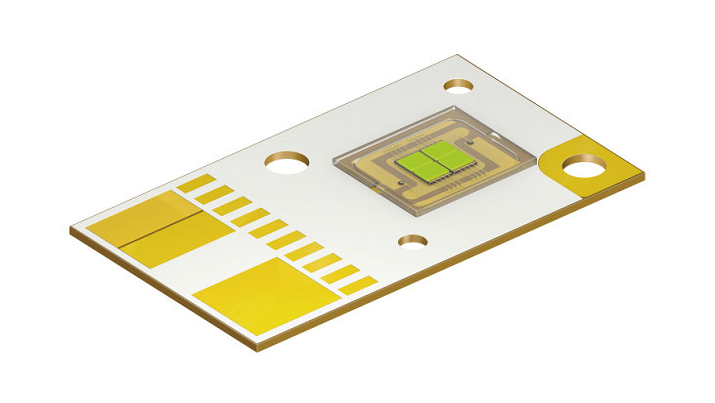 OSRAM OSTAR Projection Power LEDs (Source: Mouser and OSRAM)
OSRAM OSTAR Projection Power LEDs are available in two-, four-, or six-chip configurations on an insulated metal substrate (IMS) carrier board. The package provides a large surface area of thermal contact to help dissipate heat. This can improve the efficiency and lifetime of the LED. The connection between the chip and the heat sink results in a thermal resistance of less than 0.5 K/W. Therefore, heat dissipates better, allowing the system to operate at its maximum output limit.
OSRAM OSTAR Projection Power LEDs are available from Mouser Electronics in three colors with different flux values: amber (1120-2900 lm), converted green (3150-8000 lm) and blue (8200-21000 mW). The compact external package dimensions of 27.0 mm x 15.5 mm offer a wide 120-degree beam angle at 50% luminous intensity.
OSRAM OSTAR Projection Power LEDs provide flat surface emission, enabling a secondary optic interface. In addition, each LED module offers high current capability: direct current of 100 mA to 5000 mA (per chip) with pulsed currents per chip up to 6000 mA (amber) and 8000 mA (green and blue). The LEDs feature wide industrial temperature ranges of -40 to 100 (amber) and -40 to 125 (green and blue) degrees Celsius and can withstand up to 2 kV of electrostatic discharge (ESD).
To learn more about these new LEDs, visit the Mouser page here.