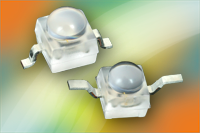 The VLD.1535 LEDs. Image credit: Vishay
Vishay Intertechnology Inc. has introduced a new series of super red, red, amber and yellow ultra-bright light emitting diodes (LEDs).
Based on Vishay's AllnGaP on Si chip technology, the VLD.1535 LEDs save space as they come in a compact untinted surface-mount package with dome lenses. The LEDs offer luminous intensity to 14000 mcd and an emission angle of about 22 degrees without the need for an external lens.
The new lighting devices can be used in a wide range of lighting applications such as traffic signals and signs, interior and exterior lighting, indicators and backlighting for audio and video equipment, LED switches and illuminated advertising.
The devices come in gullwing and reverse gullwing versions and offer high luminous flux and incorporate larger chip sizes to withstand drive currents up to 70 mA, Vishay says. Sample and production quantities are available now.