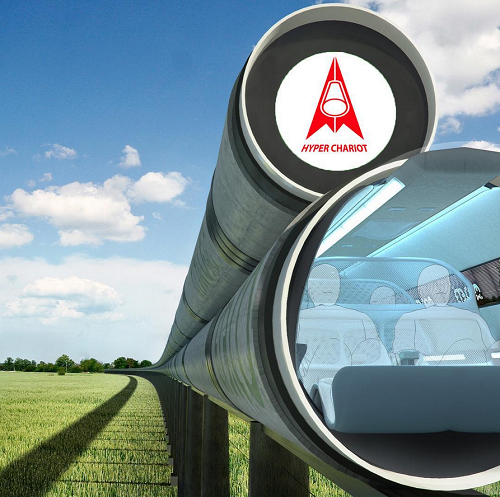 An artist's rendition of the hyper chariot. Image credit: Hyper Chariot
The idea of the hyperloop is extremely new and many, many years off in the future, but that hasn't stopped there from already being a competitor to the technology.
Hyper Chariot is a new form of transportation very similar to hyperloop in that it involves hypersonic tunnels that carry people through tubes at extremely fast speeds.
Hyper Chariot is a solar powered mode of transportation that can reach speeds up to 4,000 miles per hour. The company has plans to open hyper chariot networks in the U.S., U.K., Australia, Brazil, India, and China by 2021. The first product will be a virtual reality ride in 2018 that gives people an idea of what going 4,000 mph feels like.
The hyper chariot would carry one to six people enclosed in a five-foot vacuumed high-performance concrete tube to destinations rapidly. The company believes its tubes can be fit over sidewalks in a typical city, unlike other systems that will have to build around or over existing infrastructure. The company says this will allow building the tubes to be done cheaper than other methods making the idea more feasible than what is being doing by SpaceX and Hyperloop One with their hyperloop plans.
Currently, the company is building a three-mile long, 400-mph proof-of-concept track in order to test the viability of the hyper chariot.
Will any of these so-called fifth mode of transportation methods get off the ground? Stay tuned.