Delft Hyperloop, the student team from Delft University of Technology in The Netherlands, has unveiled its new hyperloop pod that will participate in the third SpaceX Hyperloop Pod Competition taking place on July 22.
The third SpaceX competition will see 20 qualified teams from around the world competing with the goal of being the fastest pod on the test track.
Delft Hyperloop was the winner of the first SpaceX Hyperloop Pod Competition last year and looks to not just win the speed phase of the competition, but also use its launcher to break the world speed record of 238 miles per hour while at the same time showcasing its passenger module.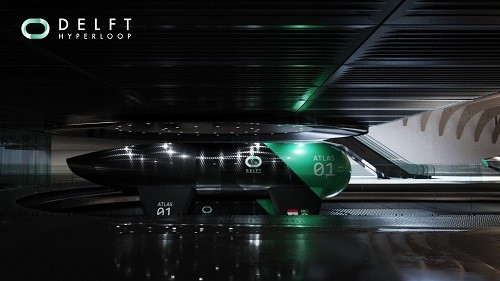 Delft Hyperloop will show off its passenger module as well as vie for the fastest speed. Source: Delft HyperloopThe vehicle that will be participating in the competition is composed of two parts: the launcher and the passenger module.
"The parts of the Delft Hyperloop vehicle are fully optimized. It's all about the power-to-weight ratio," said Delft Hyperloop team leader, Edouard Schneiders. "We have literally fought for every ounce."
The Delft Hyperloop vehicle consists of lithium-ion batteries protected by an airtight battery pack. The propulsion is powered by a wheel that is clamped onto the hyperloop track to generate the maximum possible grip for more efficiency at high speeds over short distances, Delft said. The pod comes equipped with pneumatic brakes with a fail-safe system.
In order to carry actual people on what is billed as the fifth mode of transportation, a passenger module can be placed on top of the launcher to carry people and cargo at high speeds. The team said it has tested the components of the hyperloop on a course in the Netherlands, simulating the test run and calculating how the pod will behave in the vacuum tube at high speeds.
Delft believes hyperloops will be used for more than just the transportation of people.
"Hyper-tunnels will not only be used for transport in the future, but also for the storage of rainwater and the installation of data and electricity cables," Schneiders said.