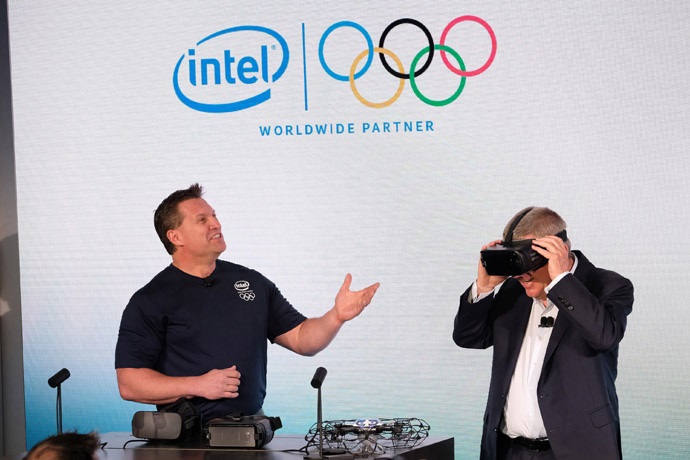 International Olympic Committee president Thomas Bach, right, gets a closer look at the Samsung Gear VR. (Credit: Associated Press)One of the ways that new technologies get developed is for lots of people to hear about them when they're still mostly in the idea stage, and to be anxiously anticipating their arrival. This puts manufacturers and vendors on a more defined timeline for delivering in order to meet customer demand.
Such is the case with some current cutting-edge technologies, such as 5G, VR, 360-degree content platforms and so on. So it should come as no surprise that we're liable to see high-profile demonstrations of nascent technologies to stir the excitement – early versions of promising products making their debt while the whole world is watching. A prime example: the upcoming Olympic Games.
Intel has announced a partnership with the International Olympic Committee (IOC) to bring technology to enhance the experience of the games through the year 2024.
"Thanks to our new innovative global partnership with Intel, fans in the stadium, athletes and audiences around the world will soon experience the magic of the Olympic Games in completely new ways," said IOC president Thomas Bach.
"Through this close collaboration with the Olympic family, we will accelerate the adoption of technology for the future of sports on the world's largest athletic stage," added Intel CEO Brian Krzanich.
The first Olympic Games "activation" will take place in February 2018, at the Olympic Winter Games Pyeongchang 2018 in South Korea. There, Intel technology (Intel True VR) will provide real-time, virtual-reality viewing of the games.
Intel's global activation rights will continue through the Olympic Games Tokyo 2020, the Olympic Winter Games Beijing 2022 and the Olympic Games in 2024 in a city yet to be selected.
Other developments to be rolled out over the multi-year partnership include:
Demonstrations of how 5G will transform communications over the next decade. Intel will partner on what is expected to be the first "5G showcase" in 2018.
Intel360 replay technology that will allow viewers to experience what it's like to be at the Games, from a variety of different viewing points.
Drone light show technology that Intel says will "create never-before-seen images in the sky."
Technological and content support for the Olympic Channel, a multiplatform destination.
"Our strategic partnership with Intel is a clear demonstration of the enduring appeal of the Olympic Games and the trust the world's leading companies have in the Olympic Movement," said Tsunekazu Takeda, IOC marketing commission chair. "The Olympic Movement is looking forward to working with Intel to achieve its vision of building a better world through sport."