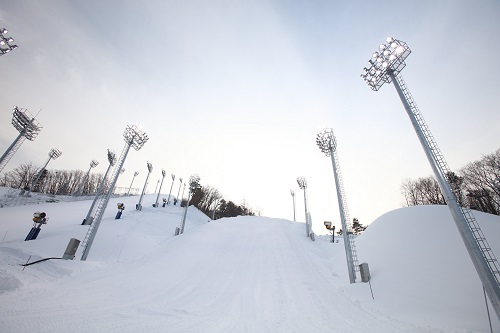 The ski and snowboarding area has been installed with LED lights. Source: Philips Philips Lighting has installed its ArenaVision floodlighting in four South Korean stadiums that will be used for ski, snowboard, hockey, skating and short track at the upcoming 2018 Winter Olympic Games.
The stadiums where the lighting is being deployed include the Phoenix Snow Stadium, the Gangeung and Gwandong Hockey Centers and the Gangneung Ice Arena.
The lighting is designed to provide light with a color temperature that is close to daylight to enhance not only the concentration of the athletes but how it is viewed by the audience and on television. The embedded reflector skirt minimizes glare for clearer visibility on the field and the lighting can withstand harsh conditions, is waterproof and has a dust proof rating of IP65.
Philips says the lighting meets 3D and ultra-high definition broadcast standards to capture the detail and emotion of the games without any flickering. The floodlighting also allows broadcasters to deliver better quality to those viewing at home.