Power-Blox is a new power technology that mimics complex nature systems to create fully autonomous power grids anywhere in the world. Power-Blox uses Swarm Power, a technology that allows Power-Blox to create plug and power, completely autonomous, scalable and decentralized energy grid. This energy grid requires no management, configuration of maintenance. A Swarm Grid can be created by anyone to power a school, hospital or an entire town by adding additional Power-Blox.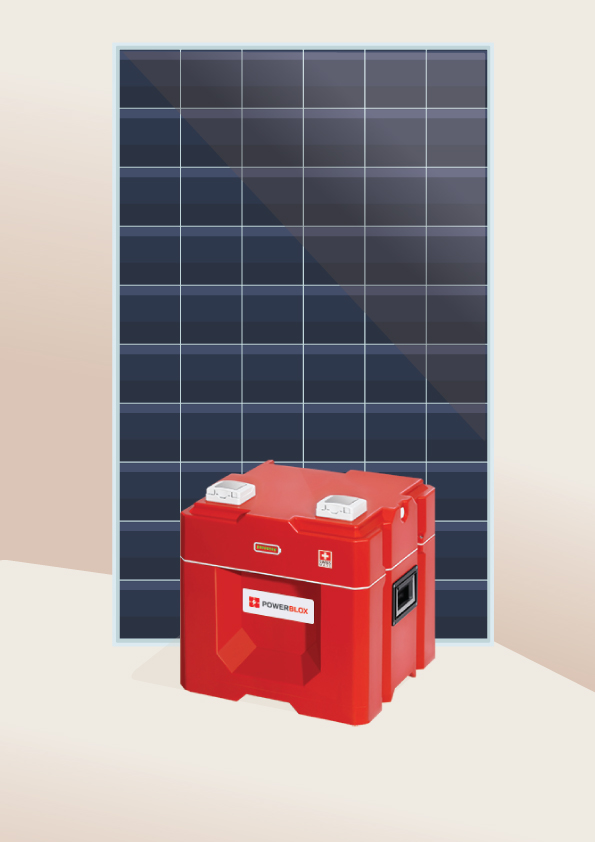 A Power-Blox Unit (Power-Blox)
Swarm technology is based on nature's approach towards organizing complex structures in a decentralized way. The most complex systems within swarms are governed by simple rules and acted upon without centralized decision making. The individual entities within a swarm follow the rule as they interact with each other without knowledge of the swarm's behavior, allowing for an intelligent global behavior for the whole system.
Power-Blox takes this swarm concept and applied it to a power grid. Within Swarm Power, power generation, storage, and distribution are completed with a full decentralized architecture that manages fluctuating current. This differs from a smart grid, which required a centralized architecture. The energy that is in the swarm is stored in the node and all of the components in the grid learn how to adapt the current state of the grid through observations of the grid parameters and adapting behavior with artificial intelligence.
The Power-Blox 200 series are individual, intelligent energy cubes that have integrated batteries. Every cube provides 200 Watts of alternating current. This can provide power for lighting, one refrigerator, and a television and cell phone/laptop charging. The cubes have an option to be powered by a solar unit, or an external source, like solar, wind, hydrothermal, biomass etc. Power-Blox is a universal energy interface. It can be combined with any external energy source or storage device.
When two or more Power-Blox are combined, proprietary algorithms enable the system to adapt and react with swarm intelligence. This creates a Swarm Grid, which can provide sustainable and regulated power for schools, hospitals, telecommunications infrastructure, agriculture equipment, disaster relief and more.
Power-Blox has an unlimited scalability due to the modular architecture of the system. Anyone can scale energy storage and production by adding more units into the system when energy requirements increase. The cubes are complete 'Plug and Power' and don't require any special configuration engineering or expertise when adding more modules.
Power-Blox Swarm Grid offers smart distribution, load balancing, and energy management and doesn't need centralized architecture, software or configuration. This technology fills a need that public grids are failing to fulfill with the rise of renewable energy. It provides power storage capabilities inside and in the last mile of the grid.
To learn more about this new power product, visit the Power-Blox site here.