u-blox has launched the NEO-M8P, a compact (12.2 mm x 16 mm x 2.4 mm) global navigation satellite system (GNSS) receiver module capable of delivering positioning accuracy down to the centimeter level. It uses both GPS and GLONASS navigation satellite constellations.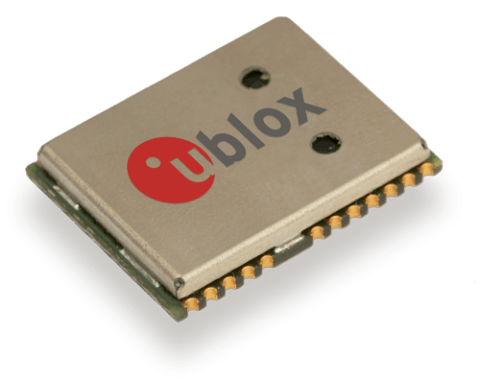 The NEO-M8P uses the real-time kinematic (RTK) concept, which classifies GNSS receivers into "rover" and "base" roles. Under the RTK concept, both rover (NEO-M8P-0) and base (NEO-M8P-2) modules receive positioning data from GNSS satellite constellations, but the base receiver also communicates precise location corrections to the rover over a separate communications link that uses a protocol defined by the Radio Technical Commission for Maritime Services (RTCM). The corrections supplied by the base module allow the rover to establish its location relative to the base station with centimeter-level accuracy.
The RTK algorithms are pre-integrated into the module, significantly reducing size and weight. Moreover, u-blox says the module's power consumption is five times lower than existing solutions. Customers can further reduce their R&D efforts, as they do not have to spend significant resources and time to develop an in-house RTK solution on a separate microprocessor system.
RTK technology has been used for some time in low-volume niche markets such as surveying and construction. Due to high costs and complexity, this enhanced positioning technology has been inaccessible for most other uses. Emerging high-volume markets, such as unmanned vehicles, require precision performance that is energy efficient and low cost. Other potential application areas include agriculture and robotic guidance systems, such as tractors or robotic lawnmowers. The u-blox NEO-M8P answers these demands for a precise, compact, cost-effective RTK-based module solution.
The u-blox NEO-M8P is currently available for sampling and will be shipping in volume in the third quarter of 2016.