Beijing Memblazed Technology Co., Ltd. announced the launch of its next generation of peripheral component interconnect express, non-volatile memory express solid state drive (PCIe NVMe SSD) products, the PBlaze 5 700 and 900 series. This new product is made for hyper-scale data center deployment and enterprise mission critical applications. PBlazed5 has 3-D enterprise-level triple-level cell (TLC) NAND and supports NVMe 1.2a with SSD user capacities up to 11 terabytes.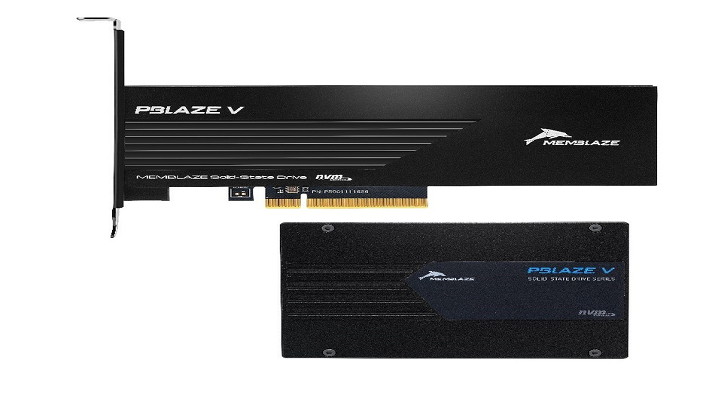 The PBlaze5 PCIe NVMe SSD. (Source: Memblaze)
The PBlaze5 comes in a 2.5-inch U.2 and half-height, half-length add-in card form factors and provides 6 gigabyte per second read bandwidth (128 kilobytes) and greater than 1 million inputs/outputs per second random read (4 kilobytes), with a typical read-write latency of 90/15 microseconds. The PBlazed5 U.2 interface is hot pluggable, removable and swappable, which reduces data center operation complexity.
The PBlaze5 700 Series reduced the number of required nodes, which reduced the overall cluster power consumption and cost. The PBlaze 700 Series is ideal for database, cloud computing, software-defined storage, search engine and big data application workload. This enables enterprise customers to quickly build next-generation high-performance green data centers.
The PBlaze 900 series is designed to meet mission enterprise applications with enterprise-level JEDEC load life of 3 drive wipes per day for 5 years. The PBlaze5 900 Series supports NVMe end-to-end data protection standard with SBER<1E-23. This helps prevent data corruption and other issues that may be caused by silent bit errors.
The PBlaze 900 uses dual port U.2 interface design. It also has multi-host common access to the device via PCle Switch. This helps mitigate the risk of interruption that is caused by single-host downtime, and improving system availability. The PBlaze5 900 has signature firmware download, data security and encryption protection technologies that ensure SSD reliability, availability and data security.
To learn more about this new SDD product, visit the Memblaze site here.