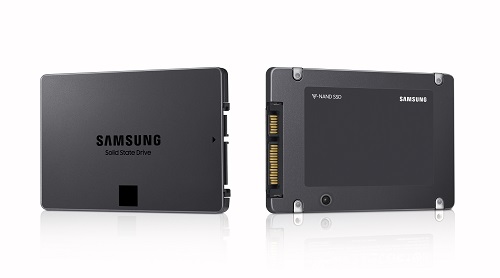 The 4-Bit QLC SATA SSD. Source: SamsungSamsung Electronics Co. Ltd. has started mass production of what it claims is the industry's first 4-bit quad-level cell (QLC), 4-terabyte SATA solid-state drive (SSD).
The SSD is based on 1Tbit V-NAND chip with a 3-bit design designed for the consumer market. Samsung said with this chip it will be able to produce a 128GB memory card for smartphones that will enable high performance memory storage.
The 4-bit 4TB SATA SSD maintains performance levels as a 3-bit SSD by using a controller and TurboWriter technology that increase drive capacity through the use of 32 chips based on 64-layer fourth-generation 1Tbit NAND.
Samsung said it plans to introduce several 4-bit consumer SSDs this year including a 1TB, 2TB and 4TB capacities each in the 2.5 inch form factor. The 4-bit QLC SSD enables a sequential read speed of 540 MB/s and a sequential write speed of 520 MB/s.
The company said it will provide M.2 NVMe SSDs for the enterprise this year and begin mass production of 4-bit fifth generation V-NAND. This will expand its SSD lineup to help meet demand across a wide span of applications such as data centers, enterprise servers and enterprise storage.