Thanks to its potential to be used as an introduction into embedded development, as the main controller of a connected application or as an attach component to offload tasks from a larger system, the role of the 8-bit microcontroller (MCU) continues to expand.
In order to keep up with this expansion, Chandler, Arizona-based Microchip Technology Inc. has introduced two new MCU families. Both aim to simplify traditionally complex designs — decreasing the amount of code, power consumption and design effort needed — while leaving more room for customer innovation and helping developers to get to market quickly.
The two new families are:
The PIC16F18446 family, designed to serve as components for use in sensor nodes. An integrated Analog-to-Digital Converter with Computation (ADC2) simplifies sensor integration. The devices run from 1.8V to 5V, providing compatibility with a majority of both analog output sensors and digital sensors. The 12-bit ADC2 does its filtering autonomously, providing more accurate analog sensor readings and higher-quality end-user data. In addition, because the ADC2 has the ability to wake the core only when needed, system power consumption is lowered; this makes the devices ideal for battery-powered applications and enables sensor nodes to run on small batteries, decreasing end-user maintenance costs and overall design footprint.
The ATmega4809 family, which incorporates a new series of megaAVR controllers designed to create highly-responsive command and control applications. The processing power of the integrated high-speed Analog-to-Digital Converter (ADC) enables faster conversion of analog signals, resulting in deterministic system responses. In addition, the ATmega4809 family represents the first megaAVR devices to include Core Independent Peripherals (CIPs) — allowing execution of tasks in hardware, instead of through software. This decreases the amount of code, and carries the potential to tremendously reduce software efforts for faster time to market. The ATmega4809 can also be added to a system to offload functions from more complex microprocessor (MPU)-based designs. This decreases the risk of delayed responses, resulting in a better end-user experience. The ATmega4809 also has been selected as the onboard microcontroller for a next-generation Arduino board, which will allow developers to spend less time coding and more time creating.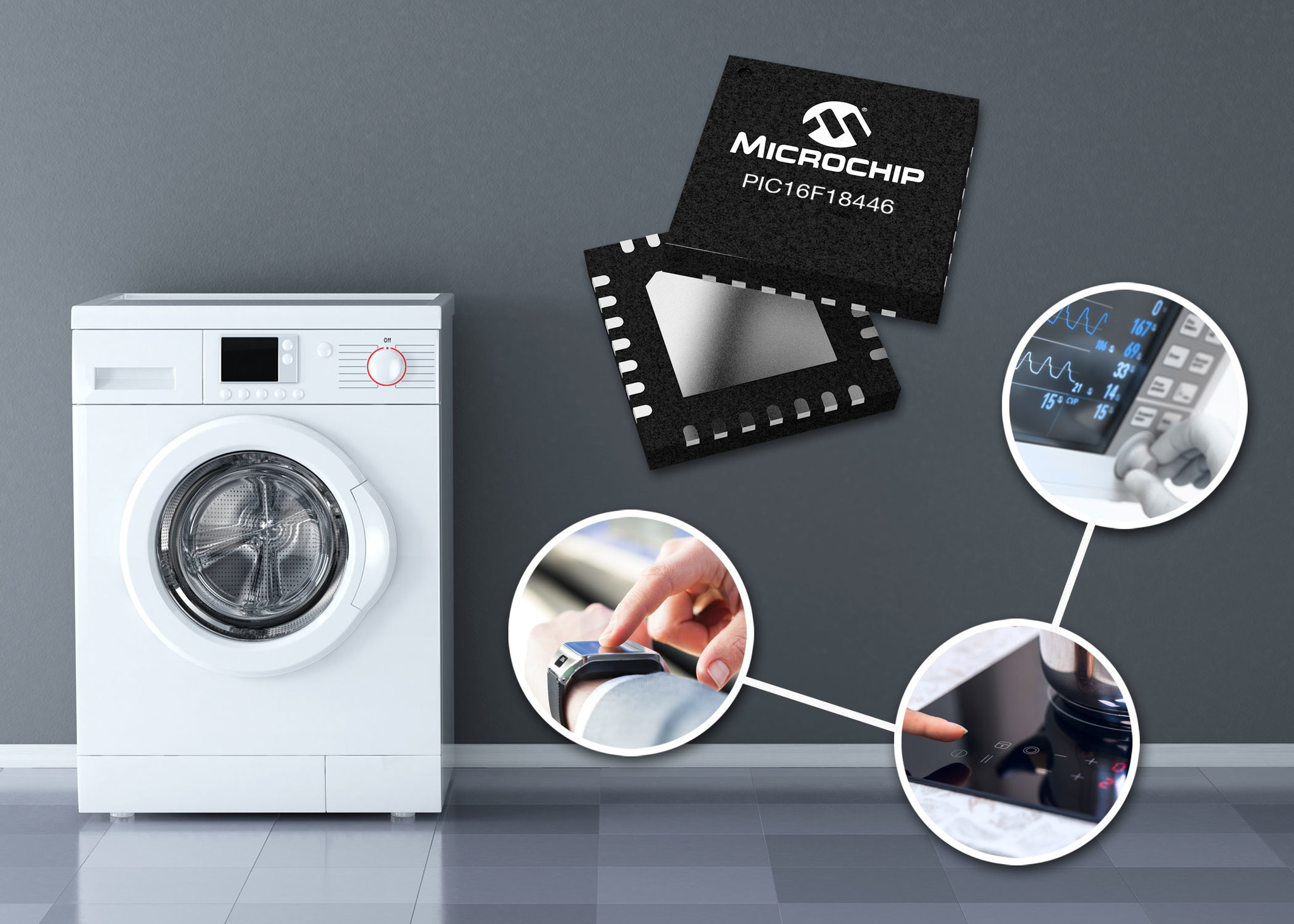 Illustration of PIC16F18446 applications. Source: Microchip Technology Inc.Available development tools:
The new PIC16F18446 microcontrollers are compatible with MPLAB PICkit 4 (PG164140), Microchip's new in-circuit tool for low-cost programming and debugging. The Curiosity development board (DM164137), a feature-rich rapid prototyping board, can also be used to start development. Both tools are supported by the MPLAB X Integrated Development Environment (IDE) and the cloud-based MPLAB Xpress IDE. Additionally, MPLAB Code Configurator (MCC), a free software plug-in, provides a graphical interface to configure peripherals and functions for any application. Designers wanting to begin development immediately can download rapid-start code examples and order a complimentary MPLAB Xpress PIC16F18446 development board, available for a limited time.
Rapid prototyping with the ATmega4809 is supported by the ATmega4809 Xplained Pro (ATmega4809-XPRO) evaluation kit. The USB-powered kit features touch buttons, LEDs and extension headers for quick setup. There's also an on-board programmer/debugger that integrates with the Atmel Studio 7 Integrated Development Environment (IDE) and Atmel START, a free online configuration tool designed to accelerate development.
Both the Curiosity development board and the ATmega4809 Xplained Pro evaluation kit have a mikroBUS-compatible socket, allowing developers to add sensors, actuators or communications interfaces from Mikroelektronika's library of click boards.
Pricing and availability:
Both PIC16F18446 and ATmega4809 devices are available in a variety of memory sizes, pin counts and package options in volume production quantities. Current pricing is as follows:
PIC16F18446 devices, starting at $0.68 each in 10,000 unit quantities
ATmega4809 devices, starting at $0.83 each in 10,000 unit quantities
MPLAB PICkit 4 programmer/debugger, $47.95
Curiosity development board, $20.00
ATmega4809 Xplained Pro evaluation kit, $38.00
For more information, interested parties can contact Microchip or an authorized distributor. Products also can be purchased directly from Microchip's online sales channel, microchipDIRECT.