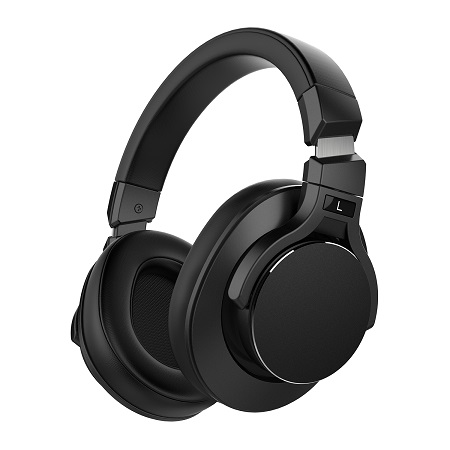 Mixcder E8 headphones. Source: Mixcder
The E8 Active Noise Cancelling Wireless Bluetooth Headphones are the latest from global audio specialist Mixcder. Featuring 18 hours of listening time, the over-ear headphones combine comfort with style thanks to soft memory-foam ear cup padding and a sleek, all-black design.
The E8's hybrid active noise canceling (ANC) technology, which is user-activated by a button on the left ear cup, works in a wider frequency range than most ANC designs, according to Mixcder, and offers improved isolation for better noise cancelation outside the active range. A digital signal processor (DSP) analyzes incoming sound waves and creates inverse waves in order to cancel out ambient sound.
The headphones' 40-millimeter drivers are also designed for a powerful, wideband frequency response from 20 to 20,000 hertz with impactful bass, a rich and detailed midrange and clear, extended treble. Balanced with the CSR Bluetooth, the drivers are able to provide crisp sound at low frequencies, up to 102 decibels.
The E8 also features an omni-directional microphone for hands-free control of both music and phone calls. When the battery charge is low, an additional 40 hours of ANC listening can be made available by plugging in the included 3.5-mm audio cable to a smartphone or MP3 player; the device can also function as a standard wired headphone if no charge is available. The ear cups can fold down flat into the included durable carry case for on-the-go use as well.
In the U.K., the headphones are available from Amazon for 59.99 pounds. Note: the headphones are currently not available to ship to the United States, but a company representative told us this is expected to change within a couple of months. In the meantime, U.S. customers can get the same technology in a silver-and-black design from Mixcder's E7 Active Noise Cancelling Bluetooth Headphones ($65.99).
For more information, visit Mixcder online.