Hologram projectors are no longer a fake prop in sci-fi movies. They are starting to show up on the market, and not just for stores or companies to purchase. I bet it won't be long before you see someone with a hologram projector displayed in their home. Below are the top five hologram projectors currently on the market, from home companions to mobile hologram projectors for projecting on the go.
1. Dreamoc HD3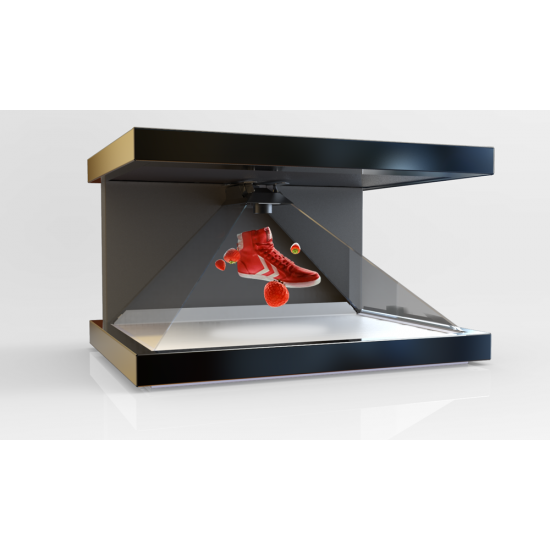 The Dreamoc HD3. (Source: RealFiction)
The Dreamoc HD3 is one of the top hologram projectors currently on the market. This projector, made by RealFiction, has HD3's Custom Content Management system that allows the user to choose from a wide selection of ready-made templates to display. It is totally customizable to your needs and has three-sided viewing and HDMI input. The Dreamoc HD3 was designed specifically for advertising and retailers.
Price: $1,999
Size: 560 mm x 342 mm x 420 mm
Resolution: 1920 x 1080
2. Holus Pro
The Holus Pro is a product of H+ and functions as an interactive, tabletop-style hologram projector. The Pro has HDMI and USB inputs, with HDMI providing higher resolution. It projects content onto a pyramid of glass, which allows for 360-degree viewing capabilities something that the Dreamoc HD3 doesn't have. It also allows users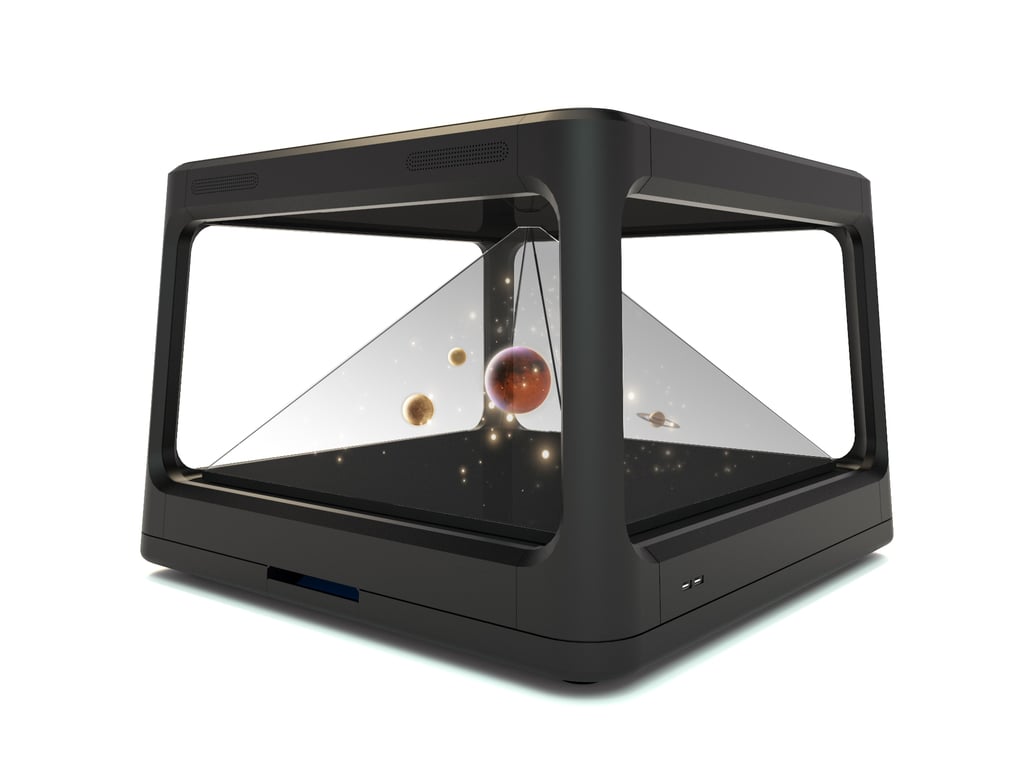 The Holus Pro. (Source: H+ Technology)to interact with the projection through tablets and gestures. It also has integrated speakers. This hologram projector was designed for use in the customer's home and is a great talking point for guests.
Price: $799
Size: 44 mm x 610 mm x 610 mm
Resolution: 1920 x 1920 (with HDMI), 1600 x 1600 (with USB 3.0)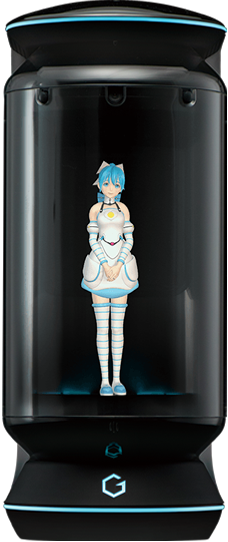 The Gatebox Companion. (Source: Gatebox)
This one is for those of you who are big fans of technology like Amazon's Echo or Google Home. Gatebox, by Vinclu, is very similar to those two technologies, but this takes it a step further. Gatebox is a virtual robot companion that comes to life and automates your life. Similar to Echo or Google Home, Gatebox can turn on lights, turn on automated vacuums, lock doors etc. But Gatebox can also provide companionship in a single-person home. Gatebox can send you texts through the day as if it were a real person, and you can even program it to do the same activities as you, like brushing teeth. Gatebox was invented to help the single people in Japan feel as if they have someone waiting for them at home while they are at work. Currently, it is on pre-order and only available in Japan and the U.S., but Vinclu plans to release it worldwide in the future.
Price: $2,600
Size: 360 mm x 220 mm x 520 mm
Resolution: 1280 x 720
If the above projectors are a bit out of your price range, then this is the device for you. This hologram device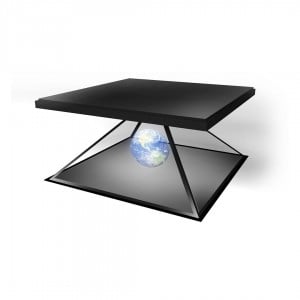 The Holho 4Faces. (Source: Holho)
is small, portable and changes your smartphone into your own personal projector. The Holho 4Faces works with most smartphone and a 7 or 10 inch tablet, depending on the size you purchase. All you need is a smart device, the Holho 4Faces and the Holho app, and you're ready to go. The app has premade designs that you can display, or you can create your own design. The Holho 4Faces display is in a pyramid shape which allows the user to see the hologram no matter what angle they are looking at.
Price: $47 for the 7-inch pyramid and $61 for the 10-inch pyramid
Size: 18 cm x 18 cm x 9 cm
5. LANMU 3-D Holographic Projection Pyramid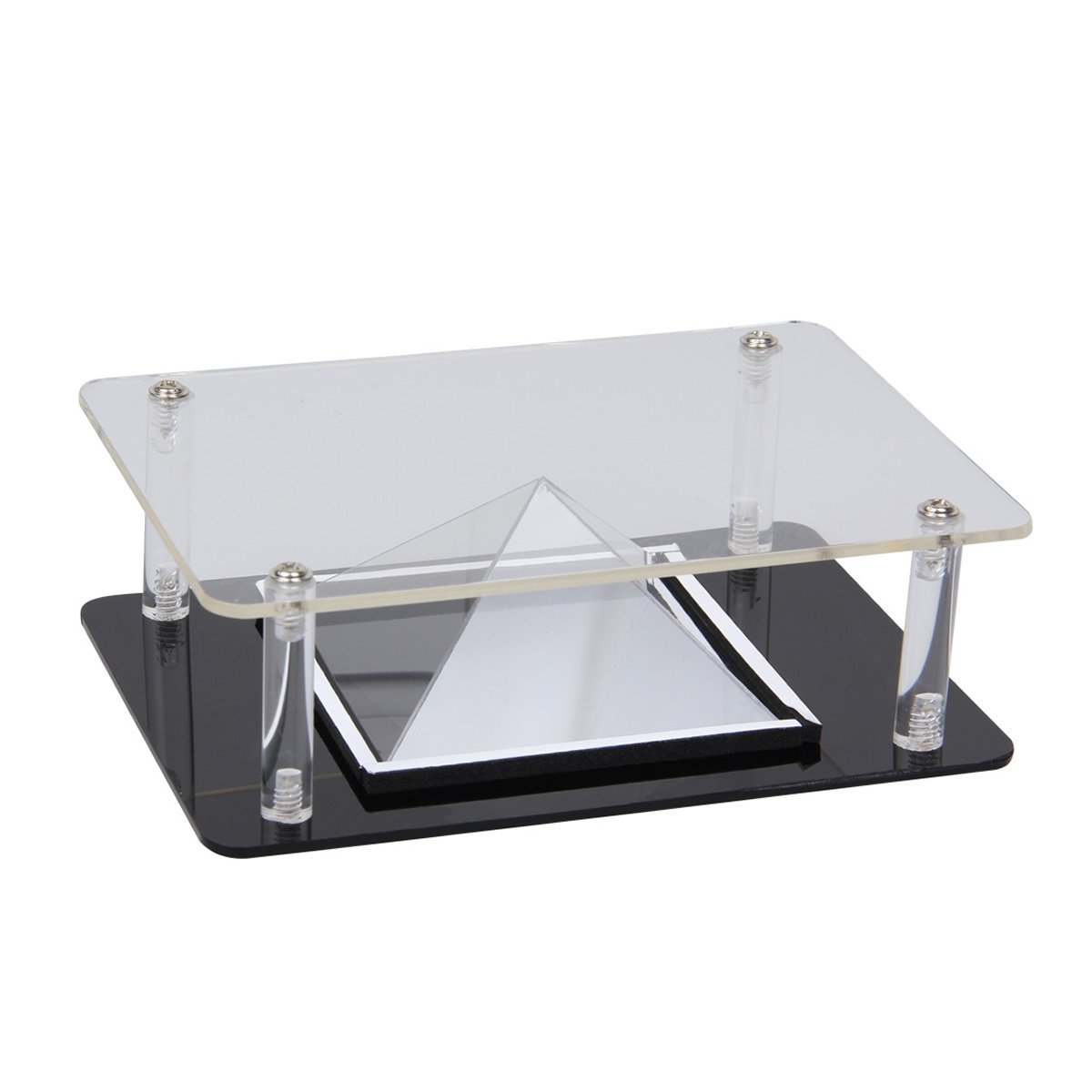 The LAMU 3-D Holographic Projection Pyramid (Source: Amazon)
Another cheap alternative to expensive home projectors! This is also a mobile hologram projector. It works with the iPhone 5, 6, 6s, 6s Plus, 7 and 7 plus, in addition to any other 3.5 to 5.5 inch smartphone. It has three transparent sides, giving the hologram a sense of space and perspective. It is made of acrylic and holographic film.
Price: $10.29
Size: 6.8 in. x 5.1 in. x 2.5 in.