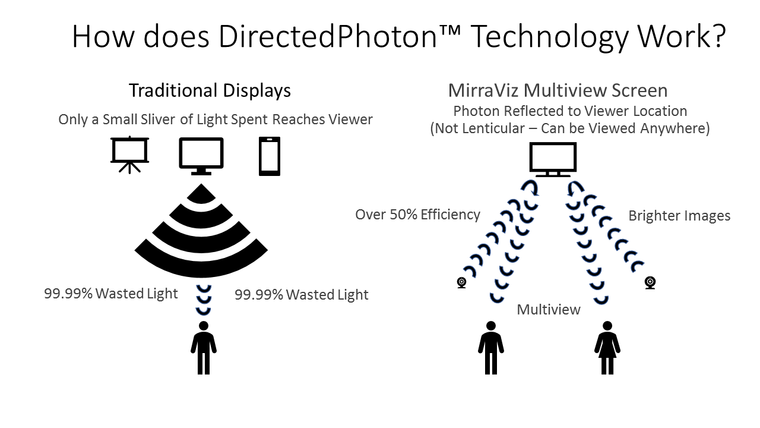 Illustration of MirraViz's DirectedPhoton technology. Source: MirraViz
New screens that make it possible to view dark projections in brightly lit rooms and environments are now on display in South Hall 1, Booth #21945 at CES 2018, which runs Jan. 9-12 in Las Vegas.
The UltraBright MultiView screens were developed by Fremont, California-based MirraViz, a 2018 CES Innovation Award Honoree. According to the company, previous MirraViz MultiView screens were sold as a system with customized projectors; the new UltraBright screens are compatible with many existing projectors already in homes and businesses and are easy to install.
The screens are based on the company's patented DirectedPhoton technology, which enables multiple people to simultaneously view completely different content over the entire surface of the same screen, without the need for special glasses. That's right: One person can be watching a video while another person is gaming — at the same time, on the same screen, with each getting a personalized viewing experience.
Just half an inch thick, the new UltraBright screens are up to 200 times brighter than standard projector screens. Starting price is $499, and screen size options are available up to 94 inches.