Epson has introduced their new display solutions for projectors used in rental and staging, corporate, education and installation markets. The BrightLink® Pro 1470UI, BrightLink 710UI and PowerLite® 700U short-throw laser displays and Pro L-Series projectors have Epson's 3LCD technology and combine laser light source. The BrightLink Pro 1470UI and 710UI are the first 3LCD interactive laser projectors.
Epson claims that the new laser projection technology will provide their projectors with a long life with minimal maintenance. They also say that they are the first manufacturer to combine inorganic 3LCD panels with an inorganic phosphor wheel. Their goal is to connect people and technology with solutions for creative ideas, displays, and collaborations across many industries. Epson believes that long life, low operation costs, and minimal maintenance are important.
The BrightLink Pro 1470Ui has 4,000 lumens of color brightness, 4,000 lumens of white brightness and full HD. This laser projector can make a surface into an interactive finger and touch-enabled digital whiteboard. The 147OUI has a 100-inch display size.
The BrightLink 710Ui for Classrooms has a 100-inch display size with ups to 20,000 hours3, and an instant ON/OFF option. It has 4,000 lumens of color and 4,000 lumens of white brightness2 and a full HD WUXGA display. This projector includes a one-year subscription to SMART Notebook® and works with most of the popular classroom software.
The PowerLite 700U projectors have a short-throw 3LCD display. It has a 130-inch image in portrait or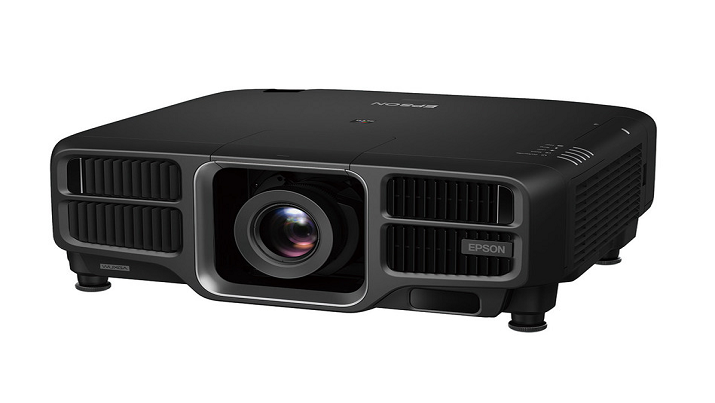 New Epson Pro L-Series large venue projectors are one of several new Epson laser display solutions introduced at InfoComm for large venue, corporate and education markets (Epson)
landscape mode with full HD resolution. It has 4,000 lumens of color and white brightness. It also has 360-degree capabilities and a contrast ratio of up to 2,500,00:1.
The Pro L-Series of projectors created for rental and staging. The projectors in this series have 4K Enhancement4 from 12,000 to 15,000 lumens of color and white brightness2. These projectors have a built-in camera, high native contrast ratio, 360-degree instillation. It is compatible with any Epson lenses.
These new BrightLink Pro 1470Ui and BrightLink 710Ui and PowerLite 700U will be available in November 2017, and the Pro L-Series projectors will be available in December 2017. To learn more about these projectors, visit the Epson site here. They will be on display at InfoComm 2017 in Orlando, Florida from June 14-17.