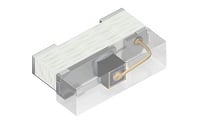 The SFH 4055 LED. Source: OsramOsram Opto Semiconductors has launched a small sidelooking infrared light emitting diode (LED) for use in eye tracking systems such as virtual and augmented reality.
The SFH 4055 has a footprint of 1.0 x 0.325 x 0.55 millimeters and is based on Osram's Firefly platform, tiny enough to fit into glasses around eyepieces. LEDs are used by eye tracking systems to illuminate users' eyes and capture the light reflected back with camera sensors.
Osram says its transmitters, lasers, and photodetectors are already used in VR and AR solutions and the new LED will allow for new use cases in the market. The LEDs could also be used in optical touchscreens that require a low-profile side-emitting infrared device to create a grid of infrared light used to detect finger positions.