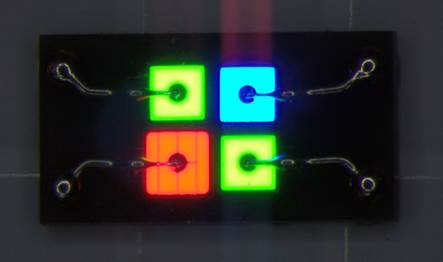 The potential new packaging for LEDs based on the InteGreat project. Source: Osram Opto Semiconductors Lighting house Osram Opto Semiconductors has completed a three-year project that resulted in new approaches to light emitting diode (LED) production, including new ways to manufacture LED packaging technologies.
Between late 2014 and early 2018, the InteGreat project led by Osram and seven research partners looked to identify improvements to the entire LED production process with the goal to achieve superior properties of lighting technology that would be difficult to reach previously.
The heart of the project was wafer-level packaging as well as investigating the planar contacts of LED chips. Planar interconnect technology involves a process where the bond wire is replaced by a thin, flat metal connection, moving the surface emitter to the surface of the package. As a result, the light can be used more directly, unlike with conventional components. This technology also leads to smaller losses in efficiency and luminance resulting in greater illumination with improved costs.
Osram said the project can be applied to not just large-format video walls but also to new applications in ambient lighting and sensor systems. The modular structure of the project can be transferred to product development and production, LEDs integrated into industrial applications and in areas such as the future of mobility can be accelerated. Infotainment may also be an area that benefits from this new technology, Osram said.
The research project was conducted by Osram, the Fraunhofer Institute for Integrated Systems and Device Technology (IISB), the Fraunhofer Institute for Reliability and Microintegration (IZM), Würth Elektronik, LayTec AG and Mühlbauer GmbH & Co KG.