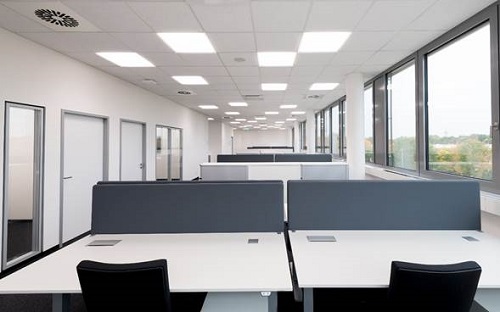 Office lighting installed in Osram's headquarters. Source: Osram Opto Semiconductors Osram Opto Semiconductors has introduced a new Human Centric Lighting (HCL) concept at its headquarters in Regensburg, Germany.
The lighting includes a façade on the company's main building and interior lighting that is designed to enhance working environments for employees as well as promote sustainability. The concept lighting system is built using light emitting diode (LED) technology and is an example of how commercial buildings could be designed around human lighting needs, Osram says.
The lighting includes both outdoor lighting as well as linear lighting on the building contours. The concept also includes flexible elements such as the indirect lighting of windows and the "Sky Garden" employee cafeteria in the corporate color orange at dusk. Programmable light curves are included that take the season into account, while sensors record the current value and adjust the lighting accordingly. Sensors then detect when no one is present in certain rooms and office areas, switching to energy saving mode automatically.
Using technologies from Osram's value chain — from individual LEDs to complete lighting solutions — the system uses brightness levels that are on par with natural lighting. Most offices are located in large buildings and enclosed spaces where natural daylight cannot be viewed. Studies have shown that workers in unsuitable lighting environments can lead to significant sleep and eating disorders, lack of energy and even depression.
The HCL concept lighting aligns interior LEDs with the needs of human biorhythms for better worker well-being.