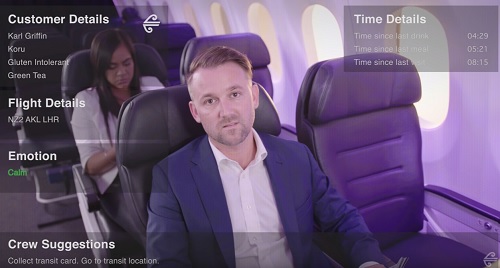 The AR system displays customer preferences and emotional state. Source: Air New ZealandThe latest industry to get involved in the augmented reality segment is the travel industry. This week, London's Gatwick Airport announced it was installing a navigation waypoint system to guide passengers around the facility using AR through smartphones.
Now Air New Zealand is working with IT service provider Dimension Data to develop an augmented reality program that supports cabin crew inflight duties by aggregating and displaying key customer information directly in front of them.
Using Microsoft's HoloLens, the data would display to flight attendants a customer's preferred meal and drinks choice, onward travel and loyalty membership details. The program is being developed to even detect the emotion of the customer by picking up on visual and audio cues.
The goal is to use new and emerging technologies to enhance how flight attendants work and to deliver greater personalization to customers. Air New Zealand says the technology has the potential to move the boarding process to a paperless inflight system for added environmental benefits.