In March, New Zealand-based Kitty Hawk unveiled its Cora air taxi that was capable of taking off like a helicopter and flying like a plane. The flying taxi was designed to ease congestion in big cities while being able to carry two passengers and travel about 62 miles.
Now, the startup has introduced a personal flying vehicle that it said is the first step to make flying part of everyday life. The Flyer vehicle is designed to be easy to fly and flown for recreational purposes over water and uncongested areas.
The aptly named Flyer can maintain an altitude of 10 feet and the flight control system allows for passengers to fly up to 20 mph.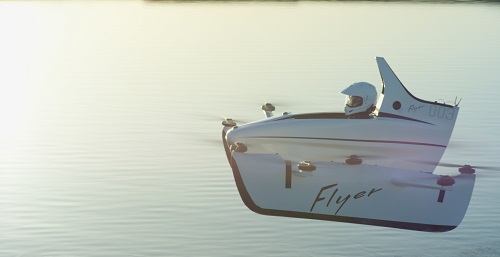 Flyer maintains an altitude of 10 feet and flight time is between 12 and 20 minutes. Source: Kitty HawkAvailable for preorder now, Kitty Hawk said the Flyer will be quieter than other fossil fuel vehicles as it is powered through all-electric motors. Flight time is between 12 and 20 minutes depending upon the weight of the passenger, environmental factors and forward speed.
Kitty Hawk said Flyer operates under the FAA's CFR Part 103 Ultralight, which does not require aircraft registration or pilot certification, although the company encourages flight training. This type of aircraft can only be flown over uncongested areas making it unsuitable for commuting, which is why the company said it is targeting recreational use.
While the company is accepting pre-orders, it has not disclosed pricing yet, but Kitty Hawk wants to work with partners to make a fleet of Flyers available in recreational environments worldwide.