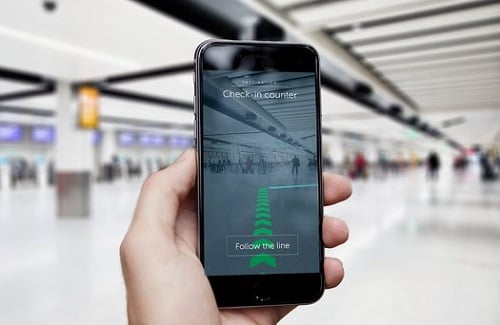 The augmented reality waypoints are being used because satellite navigation is unreliable indoors. Source: Gatwick Airport London's Gatwick Airport has installed about 2,000 beacons as an indoor navigation system that uses augmented reality wayfinding for passengers.
The goal is to make it easier for passengers to find their way around the airport and avoid missing flights. The airport is using augmented reality and navigation beacons because of a lack of satellite signals that makes Google or Apple maps unreliable indoors. Gatwick claims it is the first airport to use AR as a source for navigation inside an airport and says the technology is more reliable than GPS.
The beacon system enables an AR wayfinding tool allowing passengers to be shown directions in the camera view of their smartphone. This can point passengers in the right direction to check in areas, departure gates or baggage claim.
The airport is integrating the technology into its own proprietary apps and is also working with other airlines to enable the indoor positioning system and wayfinding tools on these airlines' apps. While no personal data is collected, the technology does monitor population density in different airport locations to improve passenger flow and ease congestion.
Future iterations of the technology could include sending reminders to passengers if a flight is delayed or sending information to airlines about late running passengers. The beacons could also potentially be used by retailers or third parties to detect proximity or promotional messages.