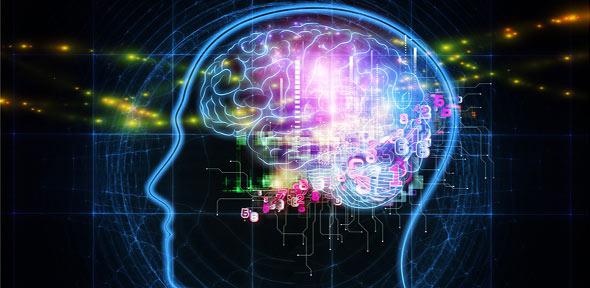 The brain. Credit: Silver Blue via Flickr
Would you like your brain to communicate wirelessly with the internet? Well, very soon you will have the opportunity to try it. Neuralink, a start up company in Silicon Valley, is developing a high bandwidth brain-machine interface to connect your brain with computers.
It is easier – and probably healthier – to dismiss this as a bad idea coming from Silicon Valley where sometimes creators of technology do not understand the role technology should play in our human world. However, setting aside our inclination to be cynical, Neuralink deserves to be understood uncritically. This idea may alter fundamentally our conception of what it means to be human and how we interact and communicate with other entities – human or not. Some people think that what is behind Neuralink may represent the next step in human evolution.
Neuralink is a start up company recently bought by Elon Musk, the visionary behind Tesla, SpaceX, Hyperloop and other enterprises. What is important is what this company is trying to do. If you have the patience to read over 3,000 words written by Tim Urban, one of the geeks at Neuralink, then go here. For a shorter summary written by Davide Valeriani, brain-computer researcher at the university of Essex, UK, then go here. However, the shortest explanation is jut to say that Neuralink is developing a "wizard hat for your brain," or in technical terms, a whole brain interface.
In essence, this interface consists of tiny electrodes connected to your brain that will allow you to communicate wirelessly with the rest of world, so you can share your fears, your thoughts, anxieties and hopes without written or spoken language. Basically, the technology will connect us biologically with the internet. If you ask Elon Musk, this brain interface will be so complete and imperceptible it will feel to us like just another integral part of our cerebral cortex and central nervous system. The flow of information from your brain to the outside world will be so easy you will be able to communicate with other people who have similar interfaces in their heads, with computers and with the cloud!
Such a brain interface sounds extraordinary, but some legal and ethical matters should be considered. First of all, this "hat for your brain" will be an elective surgery; it is not equivalent to needing surgery for a pacemaker to energize your heart. Second, because Neuralink is a communication device, the government will regulate and control it, and eventually your brain will be "invaded" by endless advertisers, marketing people and insurers who will try to tap into the biological core of your cognition in order to sell you their wares. Third, what will happen to the human race if the device becomes mandatory for future generations? In theory, the government could require this implant at birth to regulate behavior. Finally, we must remember that once you connect one device to another you create a means for it to be compromised.