People with spinal cord injuries and neurological disorders may have their ability to communicate restored with the development of a new brain-computer interface (BCI). The implantable device records brain signals associated with handwriting and harnesses them to create text on a computer in real time.
The assistive technology was devised by the BrainGate project, an initiative focused on developing BCI technologies to restore communication and mobility to populations with paralysis. The researchers recently demonstrated an intracortical wireless BCI with an external wireless transmitter capable of transmitting brain signals at single-neuron resolution.
The new brain-to-text communication system was demonstrated with a clinical trial participant with cervical spinal cord injury, who used the system to "type" words on a computer at a rate of 90 characters per minute. As the participant thought about the hand motions involved in creating written letters, a machine learning computer algorithm was trained to identify neural patterns representing individual letters. The BCI then decoded attempted handwriting movements from neural activity in the motor cortex and translated it to text in real time.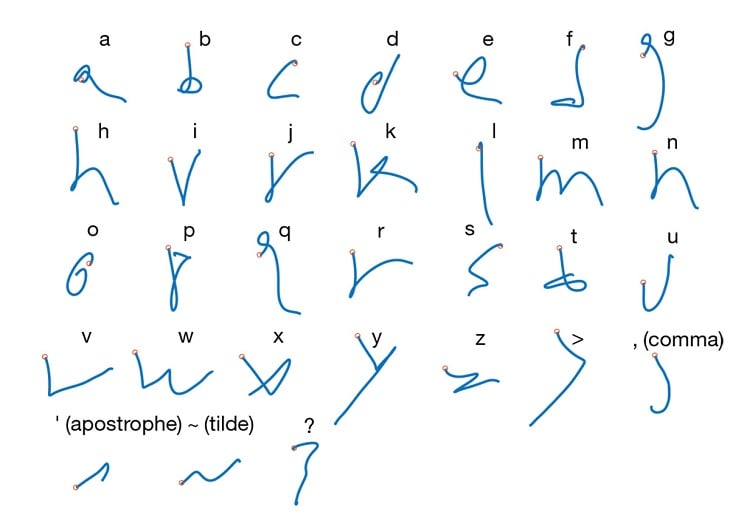 The clinical trial participant created these letters on a computer screen just by thinking about the act of moving his arm and hand to write. Source: BrainGate.org
Two implanted arrays of electrodes monitor the electrical activity of approximately 200 neurons in the brain's motor cortex, which controls hand movement. Even when a patient cannot move limbs due to a damaged spinal cord, that region of the brain is still capable of producing the same signals that it did before.
A paper on the research conducted by BrainGate scientists from Stanford University and Brown University is published in Nature.