An international collaboration funded by the U.S. Defense Advanced Research Projects Agency is developing a new approach to neural interfaces. A "cortical intranet" of tens of thousands of wireless micro-devices — each about the size of a grain of table salt — is envisioned. The devices, dubbed "neurograins," can be safely implanted onto or into the cerebral cortex and will operate independently, interfacing with the brain at the level of a single neuron. The activity of the devices will be coordinated wirelessly by a central communications hub in the form of a thin electronic patch worn on the skin or implanted beneath it.
"What we're developing is essentially a micro-scale wireless network in the brain enabling us to communicate directly with neurons on a scale that hasn't previously been possible," said Arto Nurmikko, L. Herbert Ballou University Professor of Engineering at Brown University and the project's principal investigator. "The understanding of the brain we can get from such a system will hopefully lead to new therapeutic strategies involving neural stimulation of the brain, which we can implement with this new neurotechnology."
The system will be designed to have both "read-out" and "write-in" capabilities. It will be able to record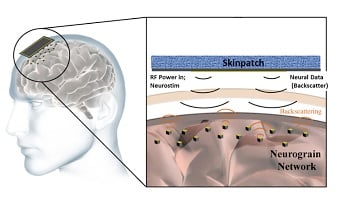 The new system will use microdevices to both "read out" and "write in" neural information. (Source: Brown University)neural activity, helping to deepen scientists' understanding of how the brain processes stimuli from the outside world. The devices will also be able to stimulate neural activity through tiny electrical pulses, a function researchers hope to eventually use in human clinical research aimed at restoring brain function lost to injury or disease.
"We need to make the neurograins small enough to be minimally invasive but with extraordinary technical sophistication, which will require state-of-the-art microscale semiconductor technology." Nurmikko said. "Additionally, we have the challenge of developing the wireless external hub that can process the signals generated by large populations of spatially distributed neurograins at the same time. This is probably the hardest endeavor in my career."
Current state-of-the-art brain-computer interfaces sample the activity of about 100 neurons. However, the researchers want to start at 1,000 neurons and build from there up to 100,000.
The new technologies will first be applied to the sensory and auditory function in mammals. The level of detail expected from the neurograin system should yield an entirely new level of understanding of sensory processes in the brain.
The team also includes researchers from IMEC (Belgium), Massachusetts General Hospital, Stanford University, the University of California, Berkeley, the University of California, San Diego, the mobile telecommunications firm Qualcomm and the Wyss Center for Bio and Neuroengineering in Geneva.