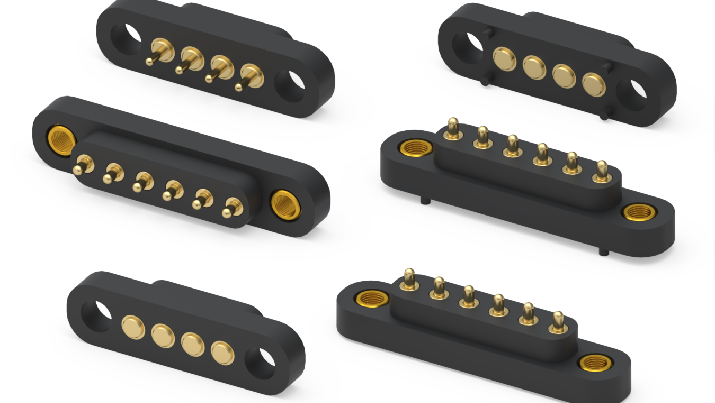 Mill-Max has released a new ruggedized long stroke 4 mm pitch spring-loaded connector (SLC) geared toward tough applications in rough environments. The 858 series is ideal for applications where the connector will experience side loading, great variation in vertical engagement, high levels of shock and vibration, high cycle counts and extremes of temperature.

The 858 series features heavy-duty spring pins with 0.050" (1.27 mm) diameter plungers that resist bending during the application of side loads. The gold-plated stainless steel spring ensures reliable operation over 1 million cycles at temperatures up to 125 °C. Each spring pin is rated for 9 amps and contact resistance of less than 20 mili-ohms ensures temperature rises do not exceed 10°C.

Offered in through-hole, SMT and SMT with alignment pin versions, the 858 series features a high temperature molded Nylon 46 housing that is compatible with RoHS soldering processes. Mounting tabs are included as standard and threaded inserts can be provided for extreme applications.

The new SLCs employ high-speed precision turning with extremely tight tolerances. The products are developed in-house using manufacturing and assembly techniques that aim at producing reliable, low resistance spring pins. The company performs extensive testing and screening to ensure that only high quality spring pins are used in these connectors.