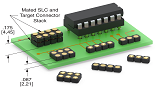 PR674 low-profile target connectors. Source: Mill-Max Mill-Max has released low-profile target connectors with an above-board height of only 0.087 in (2.21mm). Target connectors are used in place of SMT pads on a PCB as the mating surface for spring-loaded
pins. They provide increased durability and are useful in achieving specific distances between boards.
These connectors are all surface mount, available in single or double row packages and are offered with flat or concave target faces. Concave face targets provide additional surface area for mating and can aid in centering/
alignment of components and/or boards fitted with spring-loaded connectors. Precision-machined pins with an overall length tolerance of +/- .0015 in. (+/-.0381 mm) help to achieve a co-planarity of .005 in. (13 mm) or better for connectors up to 1 in. (25.4 mm) long. Advanced machining techniques are used to ensure that no burr protrusion on either the target face or the surface mount termination end.