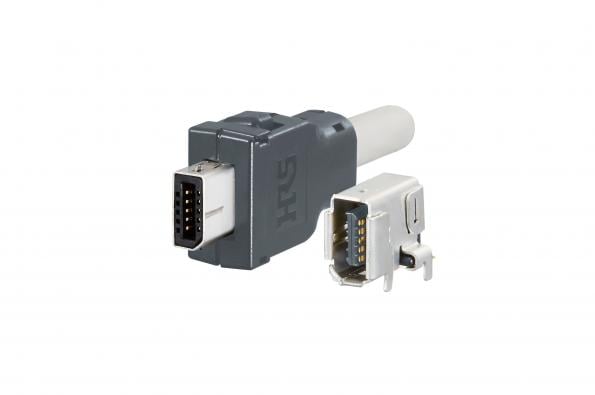 Source: Mouser
Mouser Electronics, Inc. is now stocking the IX Industrial Series I/O connector from Hirose Electric Company. The small, robust design with high-speed data transmission enables advancements in factory automation, data centers, security systems, programmable logic controllers and transportation applications.
Hirose's IEC PAS 61076-3-124-compliant IX Industrial Series I/O connector consists of a plug and receptacle that supports CAT5e and CAT6a cabling. It provides continuous 360-degree shielding against electromagnetic interference (EMI) and electrostatic discharge (ESD). The IX Industrial Series delivers secure high-speed transmission rates up to 10 gigabits per second.
The snap-in I/O connector has a metal lock with a preload spring mechanism that has a clear tactile click and ensures complete, secure mating. The preloaded springs are designed to prevent unintended cable removal and extend the operating life. The connector requires one-fourth of the installation area of RJ45 solutions and saves space up to 28 percent compared to similar snap-in I/O connectors.
The narrow width of the receptacle is beneficial when multiple connectors are positioned side-by-side on a single PCB. The receptacle shell is mounted on the PCB via through-hole solder legs to enhance PCB retention and to resist the wrenching of the cable assembly. This helps to protect the SMT leads. The single plug shell integrates a wire-termination unit and cable clamp, which prevents the connecting part of the cable assembly from being affected by the load on the cable.
The IX Industrial Series I/O connector has a rated current of 0.5A (all pins), 1A (any two pins) and 2A (pin No. 1 and No. 8 only), an operating temperature range of minus 40 to 80 degrees Celsius, and a rated voltage of 30 volts AC.
To learn more about this product, visit Mouser.