Ironwood Electronics, continues to design and manufacture new innovative surface-mount technology (SMT) sockets and has introduced the Near Zero Spring Pin.
The Near Zero Spring Pin allows the user to surface mount a socket into nearly the same space as a device.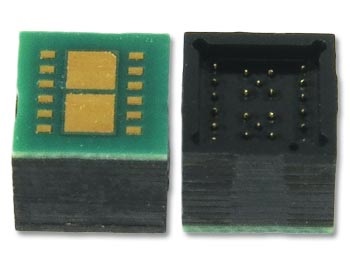 Source: Ironwood ElectronicsThese sockets integrate spring pins as reliable, high life interconnects for leaded, pad and solder balled devices, and are only 1 mm larger than the device so they can mount directly into the same location as the original device. Relief cuts can also be incorporated to fit a PCB if needed.
The spring pins are laminated into the housing with a PCB interface on the bottom, allowing it to be reflowed onto a PCB. Ironwood SMT Spring Socket part number 105130-XXXX series allows testing of virtually any device type. The sockets can be configured to the smallest form factor using the customer's press or they can be made with a cantilevered area allowing for a lid assembly. The sockets can be designed using several types of spring pins for the highest level of electrical performance required for an application. The company offers spring pin technologies that have electrical performance of up to -1 dB insertion loss to 40 GHz.

Pricing for a 48 pin device with added ground pins is $900 each at a quantity of 6, and an additional $250 for the Keylock lid version. Reduced pricing is available depending on quantity required.