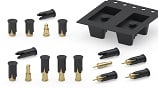 Mill-Max has announced a new option for automated assembly of spring-loaded pins with the introduction of removable pick and place caps. The 806 series features standard Mill-Max spring pins with removable caps that keep parts centered in the carrier tape pocket, present a large round target surface for vacuum pick up and are easily removed after the soldering process.
Some components, particularly individual terminals and pins, are poorly suited for pick and place carrier tape packaging due to their geometry. To solve this problem, it's often necessary to add an accessory to the part to accommodate packaging and automated assembly; these removable caps do just that. They are the ideal solution for applications in which the production volume necessitates automatic assembly, yet an insulator is not required or feasible. The removable caps attach to the body of the spring pin, slipping over without compressing or damaging the plunger. The four-finger design creates compliancy making the cap easy to remove. The closed flat top ensures reliable vacuum pick up every time.
The 806-22-001-30-0XX191 series is currently available in nine surface-mount options using standard Mill-Max spring pins 0900-X and 0907-X. The 806-22-001-10-00X191 series is currently available in four through-hole style spring pins 0906-X. All parts are packaged per EIA-481 standards on 13 in. reels with the surface-mount style on 16 mm wide tape and through-hole on 24 mm wide. The removable caps are made of high temperature nylon 46 and are suitable for most soldering processes.
Mill-Max spring pins feature precision-machined external components and high reliability internal springs. Gold-plated components and springs ensure the highest conductivity, corrosion resistance and durability. The spring-loaded are rated 2 A in continuous use (3 A maximum).