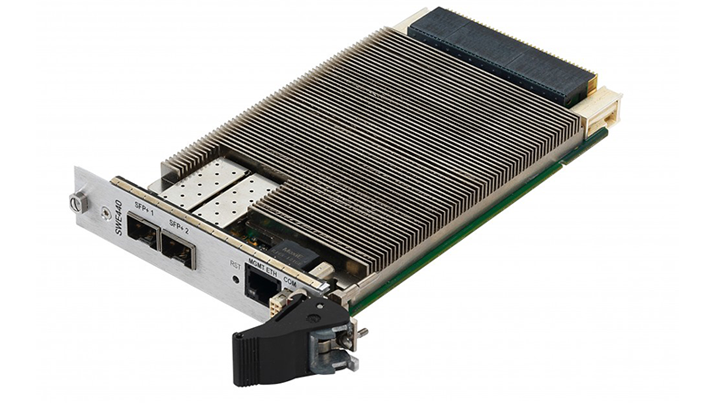 Abaco Systems, which just under two months ago launched a 40 Gigabit-capable single-board computer, the SBC367D 3U OpenVPX, has followed up with a 10/40 Gigabit Ethernet switch, the NETernity SWE440 3U VPX.

What do all these letters mean? Well, the Versatile Performance Switching (VPX) standard supports embedded systems designed for harsh environments, including military applications. The 3U form factor is designed for applications where space is limited, such as battlefield environments. And employing 40 Gigabit Ethernet means support for multimodule systems capable of developing high-performance embedded computing (HPEC).

The new SWE440 switch complements the existing technology by providing an Ethernet-based system interconnect that allows single board computers, digital signal processors, graphics cards, sensor I/O cards and others to pass data at multi-Gigabit speeds. It consumes minimal power (40 watts or less) by using system-on-chip (SoC) technology, and supports up to eight 40 Gigabit Ethernet ports, up to 32 10-Gigabit Ethernet ports, or combinations of the two. A range of data plane and control plane port configuration choices are offered; five air-cooled and rugged conduction-cooled versions are available. Optional front-panel ports enable the switch to be used in lab environments during the qualification phase, simplifying the transition from development to deployment.

Abaco's OpenWare switch management software, based on open industry standards, provides customers with customization flexibility—along with security measures such as denial-of-service attack prevention, multi-level user password mechanisms and military-level authorization schemes including 802.1X and sanitization.

SWE440-enabled systems can be deployed for next-generation situational awareness and surveillance, electronic warfare and radar/sonar—and any application requiring low latency, high-speed data transfers.