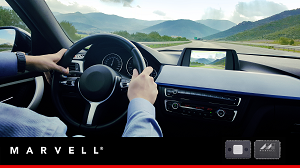 The Ethernet switch uses a deep packet inspection engine for security. Image credit: Marvell
Marvell has introduced what it claims is the first secure automotive gigabit Ethernet switch designed for next-generation connected vehicles.
As more options for connecting features to the car become available, wired and wireless network solutions that are secure are becoming especially important to prevent malicious attacks or compromised data that is streamed in-and-out of the vehicle.
The Ethernet switch uses a deep packet inspection (DPI) engine and boot functionality to ensure a level of security at the foundational hardware layer. The switch supports both blacklisting and whitelisting addressing on all its Ethernet ports for further security enhancement. The switch is AEC-Q100 qualified and supports both 100 MBps and 1 Gbps interfaces with five integrated 100BASE-T1 physical interfaces.
Marvell says samples are available now and are currently being evaluated by leading tier 1 automotive suppliers.