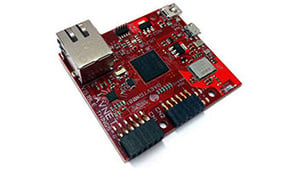 The Visible Things kit. Image credit: Avnet
Distribution giant Avnet has introduced an Industrial Internet of Things (IIoT) starter kit for engineers to get systems and applications designed, tested and deployed quickly.
The SK002 Visible Things Industrial kit combines secure, integrated hardware and embedded software to connect smart sensors and embedded devices to the cloud and smart enterprise software via low power wide area networking technologies.
Industrial applications that can be developed via the starter kit include remote monitoring, predictive maintenance of motors and drives, room control in homes and buildings, lighting, security and surveillance, smart energy metering and healthcare as well as inspection, drive monitoring and sensor hubs.
The SK002 Visible Things kit includes the features from the original kit from Avnet as well as new functions such as smart pressure and energy-harvesting sensors, controller area network (CAN) and NFC connectivity, embedded vision and audio as well as Power over Ethernet (PoE) capability.
Based on an ARM M4 Cortex microcontroller, the kit includes software, a scalable family of microcontrollers and development tools as well as a smart sensor board with Bluetooth connectivity to send data to a Wi-Fi gateway board, which manages connectivity through cloud services.