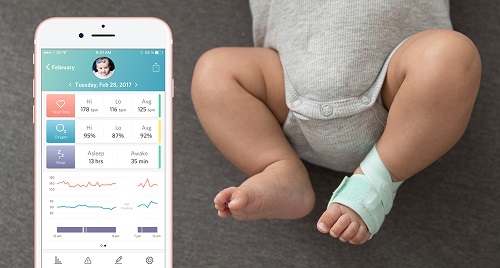 The Owlet baby sock monitors heart rates and oxygen levels, notifying parents through an app on a smartphone. Source: Owlet
Santa Clara, Calif. — Avnet recently created a specific business unit to focus on the Internet of Things that combines its ability to harness technology from multiple sources into an industrial connectivity solution for those companies that lack the knowledge or ability to do it themselves.
At the 2017 Internet of Things World conference held here this week, the distribution giant showed off some of the companies that are working with Avnet to enable the future devices that will power smart cities.
Using the Visible Things IoT platform Avnet is working with a variety of companies in the smart cities market to create everything from smart garbage cans, to smart industrial lighting, to retail, to providing comfort at home. The platform functions as a starter kit to enable engineers to get IoT systems developed, tested and deployed quickly.
"We are trying to create an ecosystem where we have proofs of concept where we can very quickly swap out technologies from different manufacturers for people that want to create solutions," Lou Lutostanski, Avnet's vice president, Internet of Things, tells Electronics360.
Lutostanski says there are customers that want to execute IoT but don't know anything about devices. Avnet helps these companies get from the device to the cloud and is now looking to extend that service by partnering above the cloud with other companies.
"Once we get them to the cloud our expertise ends, so if we can take the enablement we have done to generate the distributor model of IoT as a service then partner with companies to bring it a step further," Lutostanski says. "We are not going to invest [in the cloud] but we are going to partner up there heavily and go it alone toward providing tools for device creation."
Among those using Avnet's Visible Things starter kit is Ubicquia, a company developing plug-in-play devices that turn street lights into multi-function routers. Ubicquia's module enables pollution monitoring, temperature/humidity/pressure monitoring, gunshot detection and even traffic accident detection coordinated to send out emergency response teams.
The module from Ubicquia plugs into any street light since it is patterned after the ubiquitous light socket that is found in most common lamps worldwide. Avnet helped to build the model for the device and supplied components.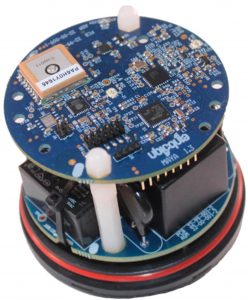 Ubicquia's smart lighting platform plugs into any street light to turn it into a module that can detect hazardous gases, gunshots or traffic accidents. Source: Ubicquia
Currently, Ubicquia has installed its module in Mexico and parts of Europe, and it is looking to expand to other markets.
Rubicon Global is a waste management company seeking to disrupt how garbage and recycling are handled by using technology to reduce costs to consumers and create a more sustainable solution for the planet. Rubicon uses independent haulers to bid on consumers' business in order to drive down the cost. The technology platform, which utilizes Avnet electronics, works on a phone or tablet and allows for scheduled pickups and tracking of haulers in real-time. Don't have a full garbage bin? No need to have it picked up.
Avnet also worked with Twyst to design a smart city shopping option to eliminate the need to wait in checkout lines. Instead, the device is equipped with sensors that link the store with a consumer's data, similarly to online shopping. Twyst says the technology can be applied to any retail store and any shopping container, including baskets, bags, carts and point of sale countertops. According to Twyst, in the future smart cities, cash registers may be a thing of the past.
Finally, Avnet helped bring the Owlet baby sock to the market. The sock tracks heart rate and oxygen levels in infants, is monitored through a smartphone and provides real-time levels in the baby. If levels fall outside of the preset zones, the sock notifies parents with lights and sounds as well as warnings from the app.