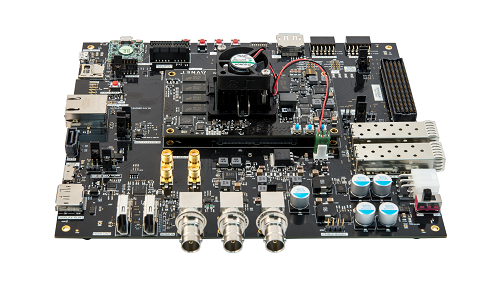 The UltraZed-EV starter kit. Source: AvnetGlobal distributor Avnet Inc. has introduced a new platform for the internet of things (IoT) that is designed for future embedded vision designs.
The UltraZed-EV Starter Kit is based on Xilinx's Zynq UltraScale+ MPSoC EV device family and a carrier card for a complete platform for prototyping and evaluating video processing systems.
The new starter kit joins similar boards that are part of Avnet's Zedboard family, including the MicroZed, PicoZed, UltraZed and MiniZed for embedded vision, IoT, IIoT, voice processing and software defined radio.
Other features of the board include full-feature System-on-Module (SOM) with onboard dual system memory, high-speed transceivers, Ethernet, USB and configuration memory. The starter kit includes 152 user I/O pins, 26 processing system MIO pins, four high-speed PS-GTR transceivers along with four GTR reference clock inputs and 16 programmable logic high-speed GTH transceivers.
The starter kit mates with the UltraZed-EV SOM via two 200-pin micro headers, connecting the UltraZed-EV PL I/O and transceivers to the FMC HPC slot, LVDS touch-panel interface, SFP+ interface, HDMI In/Out, 3G-SDI In/Out, pushbutton switches, DIP switches, LEDs, Xilinx System Monitor, clock generators and two Digilent Pmod compatible interfaces.
The UltraZed-EV starter kit is available in America, EMEA, Asia and Japan priced at $1,595. The UltraZed-EV Carrier Card can be purchased for $649.