Newark, an Avnet company, has signed an agreement with XinaBox to broaden its influence in educational devices and kits.
XinaBox creates a range of internet of things (IoT), artificial intelligence (AI), machine learning and automation for educators teaching science, technology, engineering, art and math (STEAM). The devices and kits are used in secondary schools and colleges globally, for first-time users through advanced students.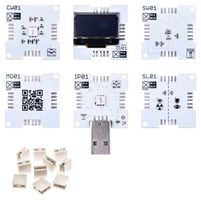 The XK01 STEAM Starter Kit from XinaBox. Source: Newark The kits include xChips, which are designed to fast track a user's understanding of the IoT. These devices are simply clipped together without wires, soldering or breadboards without any specialized knowledge required. The library of chips includes 80 modular hardware including cores/CPUs, sensors, power, communication, output and storage. Wi-Fi, Bluetooth and LoRaWAN cores are also in the kits to connect projects to the IoT and other components like BBC micro:bit and Raspberry Pi can be integrated into projects.
The kits include:
XK01 STEAM Starter Kit: For secondary classrooms, the kit includes a W-iFi core, XChip, sensors for temperature, humidity and pressure, UV index, a mini-OLED display, space chip and connectors. The kit can be used to collect and investigate the relationship between data sets such as temperature and atmospheric pressure, temperature and light, temperature and humidity and visible light and ultraviolet light.
XK05 micro:bit IoT Kit: This is an entry-level kit for micro:bit designs that enables the analysis of large data sets in the classroom with no previous experience required.
XK12 IoT Starter Kit: For professional users, the kit combines modular electronics with an ecosystem of software tools in Python. The kit contains components to build a smart IoT edge device that collects environmental data.