Investing in smart lighting solutions for your home is wise (smart, even) for a number of reasons. Like most other aspects of home automation, smart lighting can enable a homeowner to remotely control their lights, change their color or hue, maximize energy savings and more.
Homeowners who decide to take the smart lighting plunge are immediately confronted with two groups of products: smart bulbs and smart switches. These can work separately or together, and each has unique advantages and disadvantages. So which should you choose?
Why Smart Lighting?
A smart lighting implementation first takes a bit of planning. Homeowners should ask themselves what they're looking to accomplish by automating part or all of their home's lighting. A few possible features of a smart lighting system include:
-Greater control: Smart lighting allows a homeowner to control multiple fixtures from a single smart switch. They can also program their system to create scene lighting, which they can change based on a certain activity. For example, in a living room, a user can program their lights to be brighter for reading or dimmer for watching a movie. Both smart switches and smart bulbs can incorporate If This Then That (IFTTT) functionality, meaning that certain events like weather changes or phone notifications can trigger lighting changes.
-Energy savings: Reduced energy consumption is a major benefit of smart lighting systems. Homeowners can program their system to switch lights off when people leave a room, or turn on when a person enters the house. They can also program smart fixtures to adjust in response to the amount of available daylight.
-Security: Gone are the days of the hard-wired vacation timers — smart lighting systems are easily programmable to switch on and off when homeowners are away for an extended period. Users can also control the system remotely using smartphone apps.
-Cool effects: Smart bulbs can change color, stream audio via Bluetooth or even act as Wi-Fi enabled cameras.
Smart Bulbs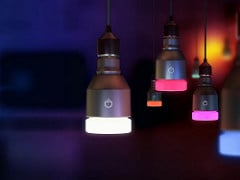 An assortment of LIFX smart bulbs.
The simplest and easiest way to implement smart lighting is to simply buy a smart bulb. Most of them have standard E26 bases, like conventional bulbs, which fit in conventional sockets. Homeowners just starting out with smart lighting simply screw in the new bulb, download a smartphone app or other means of control and start automating.
Smart bulbs on their own are great for users who want to use an app to change lighting colors, dim the lights or switch the lights on and off. They also offer a great degree of localized control, so a user could turn off or dim a single bulb in a multi-light fixture. Beyond that, smart switches and other home automation are required. By syncing a smart bulb with a smart switch or automation device like Amazon Echo or Google Assistant, homeowners can tap their full power and create recipes for mood lighting or sync them up with TV audio. But it's important to note that smart bulbs alone will work with conventional light switches.
Smart bulb shoppers will want to carefully compare bulb features before buying. Some, like the Philips Hue, are relatively low priced (between $15 and $30, depending on features) but require a home automation hub. Others — like the LIFX Color 1000 (around $60) and MiPow Playbulb (around $40) — are pricier but can connect directly to a smartphone via Wi-Fi or Bluetooth, cutting out the cost of the hub.
Smart Switches
In contrast to the plug-and-play nature of smart bulbs, smart switches require a little more DIY expertise. They're designed for easy installation, but homeowners still face the task of swapping out their hard-wired conventional switches. Those with less electrical experience will probably want to hire a professional to safely perform the job. Plus, smart switches typically require modern wiring, so owners of older homes might not be able to install them.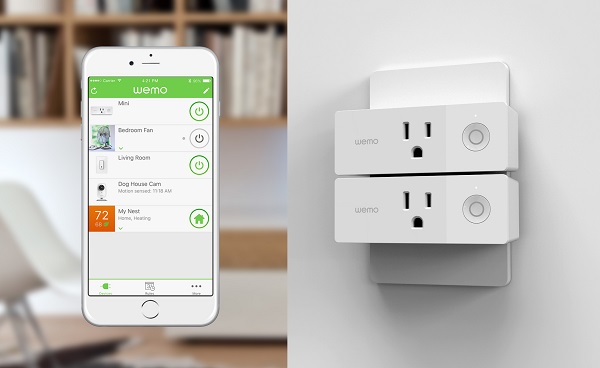 The Wemo® smartphone app, which can control both Wemo smart outlets and smart switches. Source: BelkinJust as you can use smart bulbs with conventional switches, you can also use a smart switch with conventional "dumb" bulbs. Either way, switches have some important advantages. The first is that, because the hard-wired switch itself is automated, lighting programs will work regardless of network issues or whether or not the switch is on. By contrast, a smart bulb using a dumb switch requires that the switch is on at all times to execute timed programs or moods.
Smart switches alone can wirelessly control other devices like fans, which may use many bulbs. For a fixture of this type, installing a smart switch would incur about the same cost as outfitting it with smart bulbs — it might even be a little cheaper.
Bare-bones smart switches with simple on-off functionality may run as low as $20 or so, but switches that interface with existing home automation for increased functionality usually run around $50.
The Bottom Line
Smart lighting gives homeowners a huge amount of flexibility to craft their own solutions. After determining their needs and wants, the sky is truly the limit. Those serious about simplifying their lives through home automation will probably find that a combination of smart bulbs and smart switches is the best course of action. For example, smart bulbs alone might be an economical choice for an entertainment room, where a user desires lighting changes only when watching movies or listening to music. But for a living room with several multi-light fixtures, a smart switch or two is much more practical.