Light-emitting diodes (LEDs) aren't limited to electronics class and simple displays anymore. They have already significantly replaced liquid crystal displays (LCDs) in household electronics, and are quickly replacing all other types of lightbulbs for illumination in residential and commercial applications.
For lighting applications, the LED has two major competitors: the incandescent bulb and the compact fluorescent bulb. The incandescent bulb has been used for ages and relies on the heating of a small filament to emit light. It has the advantage of widespread use for generations, but it does emit heat. The compact fluorescent bulb offers a longer life than an incandescent, but at higher initial cost, an unusual shape and a slightly-different light spectrum than incandescent light.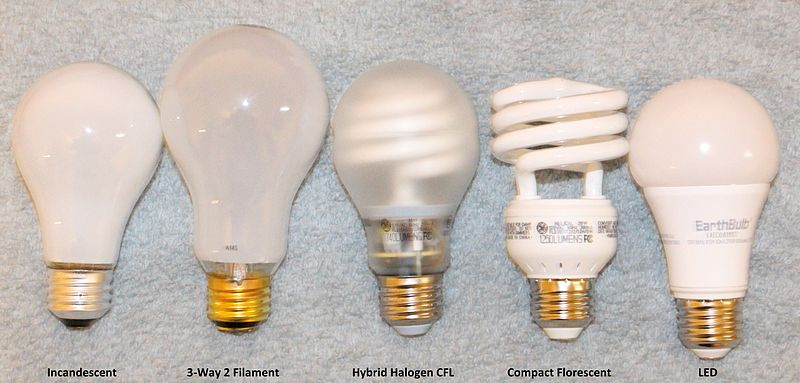 LEDs can be made to look like any standard incandescent bulb, making them quite versatile. Source: Mark Jurrens, CC BY-SA 4.0
Advantages
LEDs have some distinct advantages over incandescent bulbs and compact fluorescent bulbs, mostly in terms of cost savings, the longevity of the bulb, and safety.
Cost savings
Much of the energy used to light a conventional, incandescent bulb is transformed into heat energy. That is by design; the visible light is simply the photons escaping as the thin, tungsten filament is heated to a high temperature. All of this "waste" heat that is not converted into light is dissipated in the room. An example of this would be the heat one would feel standing under stage lighting for a play or concert.
[Learn more about LEDs on GlobalSpec]
LEDs are much more efficient at converting electrical energy to light. They do not rely on heating up an element, but rather take advantage of semiconductor physics to emit photons from a small electrical current. More lighting is available per unit of power, meaning their operational cost is much lower than incandescent bulbs. According to Integral LED, a 60 W incandescent bulb can be replaced with an 11.5 W LED bulb, and the room will receive the same amount of lighting.
Long life
Incandescent bulbs typically fail due to repeated heating and cooling cycles. Because the filament gets extremely hot, and then goes cool again when the light is turned off, the filament is thermally stressed until it fails. Furthermore, the lightbulb itself is fragile -- the glass bulb is fragile, but more importantly, the thin element, which is being stressed with each heating cycle, is even more frail. This is why a desk lamp light bulb will fail if the lamp is knocked over, even if the bulb itself does not break.
Enter LEDs. They are not thermally stressed at the same capacity as the thin filament. Because of this, the LED can outlast even the most carefully treated incandescent bulb.
Safety
LED lights do not heat up the same way that incandescent lights do. They do not output as much heat, meaning LED lights remain much cooler. This is because the incandescent bulb relies on heating an element to the point where it gives off visible light, which means the filament must get incredibly hot.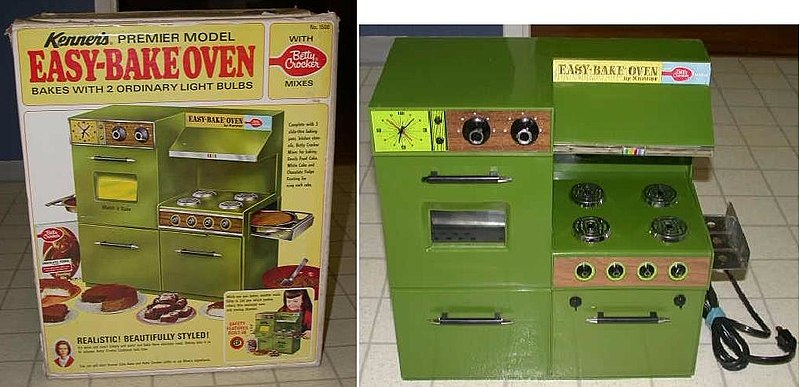 An Easy-Bake Oven, which (eventually) baked food with the power of two incandescent light bulbs. Source: Bradross63/CC BY-SA 4.0In the '70s and '80s, several toy manufacturers took advantage of the heat from standard light bulbs and made small ovens where children could cook a single cupcake or a tiny batch of cookies.
The cooler temperature of the LED bulbs means less energy is required for refrigerated air during the summer months, but it also means LED lights are less likely to cause a fire due to close contact with the bulb.
As an example, a 90 W incandescent lamp, under the right circumstances, can melt plastic and nearby wiring insulation. For example, suppose a bright desk lamp is left on overnight, and the owner's pet cat knocks the lamp over. If the bulb doesn't shatter, it could land on the lamp cord, melting the insulation. Another example is the use of incandescent Christmas lighting wrapped around a dry Christmas tree; the lights heat up and the tree could catch on fire. The odds are small, but this type of fire does occur. If these incandescent bulbs are replaced with LED bulbs, the risk of fire decreases significantly.
Furthermore, LED bulbs are cooler to touch. Many young children have been burned by touching hot incandescent lamps. With LEDs radiating so much less heat, they are much safer than incandescent bulbs, even in places accessible by small fingers.
Barriers to adoption
Original LED lighting was much more expensive than incandescent bulbs, so the average consumer was reluctant to invest in the long-term savings of LEDs. They were still cheaper than compact fluorescent bulbs and were more environmentally friendly in terms of disposal, so they began to eat up the market. Once LEDs had a foothold in household lighting, their long life, low heat and low energy use made them an attractive alternative to incandescent lighting.
Eventually, the LED lighting cost decreased. At the time of this writing, the author was able to buy four, 60 W LED bulbs for track lighting above the bathroom mirror for only $0.94 at a local store. Once they are installed, they are also much brighter than the incandescents -- meaning one could theoretically leave only one lightbulb installed without compromising on light emission.
Another initial barrier to adoption was the fact that LEDs were not able to be dimmed in adjustable lighting installations. For living rooms, kitchens and dining rooms where dimmer switches are routinely installed, LEDs initially could not replace incandescent bulbs. This has to do with semiconductor physics, where a certain "knee" voltage must be overcome before the LED will light at all. Above the knee voltage, small voltage changes result in large current changes, and LEDs can only handle very low currents. Even with that in mind, dimmable LEDs are now on the market, meaning this is no longer a barrier.
Conclusion
LEDs will continue to replace incandescent bulbs in the near future, due to their long life, low heat and increased safety. While no child is going to bake any cupcakes in a toy LED stove, the advantages outweigh the disadvantages, and LEDs are here to stay.