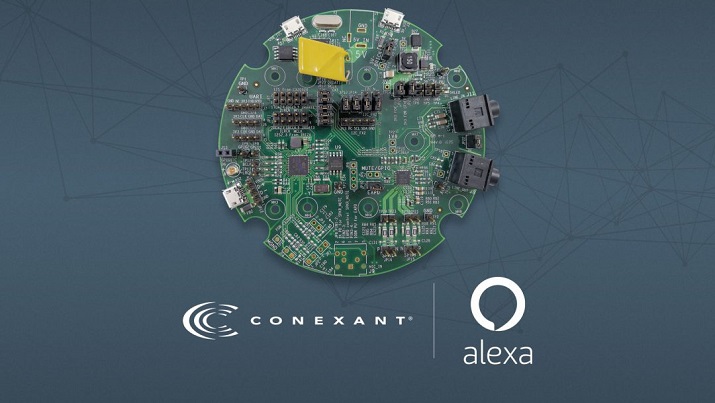 News for device-makers looking to integrate Amazon's Alexa Voice Service (AVS) into their products: Conexant, an audio and voice technology solution provider, has rolled out a four-microphone version of its AudioSmart Development Kit for Amazon AVS.

The solution includes Conexant's Smart Source Locator (SSL) technology, a new feature that gives the voice processor the ability to focus in on the direction from which the user's voice is coming. When combined with Conexant's Smart Source Pickup (SSP) technology that provides 360-degree noise suppression, the voice processor is capable of higher speech recognition accuracy – even in challenging environments where TV, radio, phone or other noises emanate from the room.

The core component of the new kit is Conexant's AudioSmart CX20924 Voice Input Processor running Conexant's far-field voice pre-processing software technology. It focuses on the user's voice and removes echoes and noise from the audio signal, providing clear voice requests for speech recognition processing. It also comes equipped with Conexant's CX22721 Low Power Audio Playback CODEC to power small speakers and provide optimal audio quality tuning for music and Alexa voice prompts.

Both the new AudioSmart 4-Mic Development Kit and the recently-released AudioSmart 2-Mic Development Kit are available through ArrowElectronics, and can be used for prototyping running AVS java sample client software on Raspberry Pi.