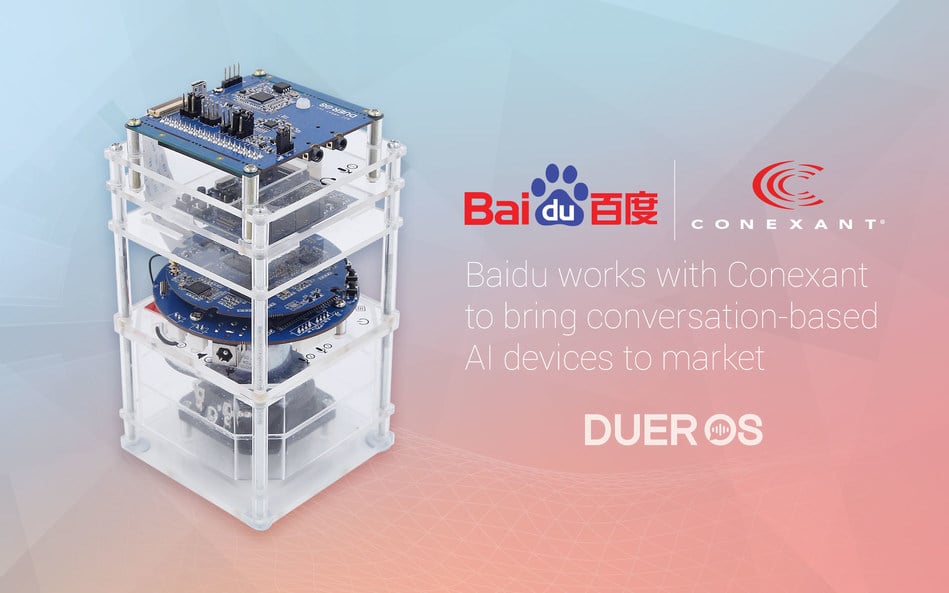 Baidu collaborates with Conexant to bring conversation-based AI devices to market. (Credit: Baidu)
Conexant has announced a collaboration with Baidu to release artificial intelligence (AI) development kits and reference designs. Device makers can use the kits and designs to develop far-field voice-enabled AI devices running on Baidu's DuerOS platform. DuerOS is a conversation-based AI system that already supports access to a voice-activated digital assistant for mobile phones, TVs, speakers and other devices. The collaboration is aimed at helping developers and device-makers to integrate DuerOS into their products.
The core component of the development kits is Conexant's AudioSmart® voice input processor (CX20924 for 4-mic applications, and CX20921 for 2-mic applications). This runs the far-field voice pre-processing software technology. Conexant's far-field voice input processors focus on the user's voice and remove echoes and noise from the audio signal to provide DuerOS cloud AI platform clear voice requests for speech recognition processing.
Enabling speech recognition and voice control from a distance required acoustic challenges related to echo cancellation, background noise, the position of microphones, speaker placement and more. The key benefits of the Conexant AudioSmart voice input processors include robust interaction with two or four microphones and Smart Source Locator™ technology, which identifies the location of a user's voice. AudioSmart also features enhanced Smart Source Pickup noise suppression for improved speech recognition performance. The processors include voice barge-in enabled by full duplex acoustic echo cancellation (AEC), which detects a wake word even when the device is playing music or voice prompts are loud.
The development kits and reference designs for DuerOS are available starting July 5. To learn more about this release, click here.