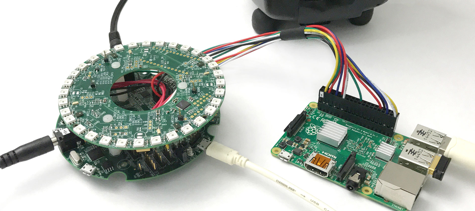 The 4-Microphone development kit prototyping on a Raspberry Pi board. Image credit: Conexant
Conexant Systems has introduced a 4-microphone version of its AudioSmart Development Kit for Alexa Voice Service (AVS) that allows third-parties to build far-field devices at a low cost.
The kit features Conexant's Smart Source Locator (SSL) technology that allows the 4-microphone board the ability to focus in on the direction from where the user's voice is coming from for better 360 degree noise suppression. This is ideal for areas where a smart home hub may be in an area with many noises such as coming from a television, radio or phone, Conexant says.
The development kit includes Conexant's CX20924 voice input processor with far-field voice pre-processing software, a far-field input processor to remove echoes and noise from the audio signal and Conexant's CX22721 low power audio playback CODEC that can power small speakers and be tuned for audio quality for music and Alexa voice prompts.
Conexant says the development kit saves engineering time and reduces costs for those developers looking to build noise robust, far-field voice-enabled devices.
The CX20924 voice input processor allows for far-field voice interaction with four microphones, enhanced noise suppression and full duplex acoustic echo cancellation (AEC) to detect the Alexa wake word even when the device is playing music or voice prompts loudly.
"As proven over the last few months by the explosive growth in third-party devices with Amazon Alexa featuring Conexant's voice processing solutions, the voice revolution is in full swing," says Saleel Awsare, president of Conexant. "Our 4-mic development kit addresses the various challenges associated with creating voice-enabled devices, cutting required engineering time down significantly."
The kit is currently available through Arrow Electronics and can be used for prototyping running AVS java simple client software on Raspberry Pi.