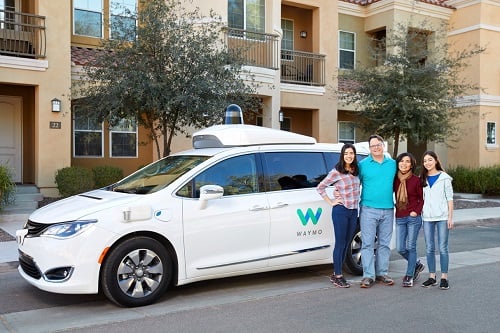 This family uses Waymo's early rider program to help the parents keep up with their kids' busy lives. Their two teenagers often ride Waymo to their after-school activities. Source: Waymo
About one year ago, Google's autonomous driving wing Waymo introduced its early rider program to use its self-driving cars to transport volunteers in the Phoenix area along their daily lives.
Now, Google is looking back on what it learned over the course of the year, what people used the autonomous vehicles for and where it is headed in the future.
What began as small project with a few people riding in the self-driving cars has grown to more than 400 riders using the vehicles every day, at any time, to ride all over the Phoenix area. Waymo said the early rider program drives more than 24,000 miles daily including riders that are senior citizens, high school students, families with young children and people with disabilities or those without a license.
Those that participate in the program range from age 9 to 69, Waymo said, and these people use the early riders program for daily trips to work and school, or for rides to the doctor and dentist, for going shopping, to restaurants, to the movies and much more
Waymo is planning to roll out this year a self-driving ride-hailing service nationwide and is using early riders to help learn how better to help consumers inside the vehicle as well as contacting the company to get a vehicle via the app. The riders are also helping Waymo learn what will be expected of the self-driving cars when the service gets launched.