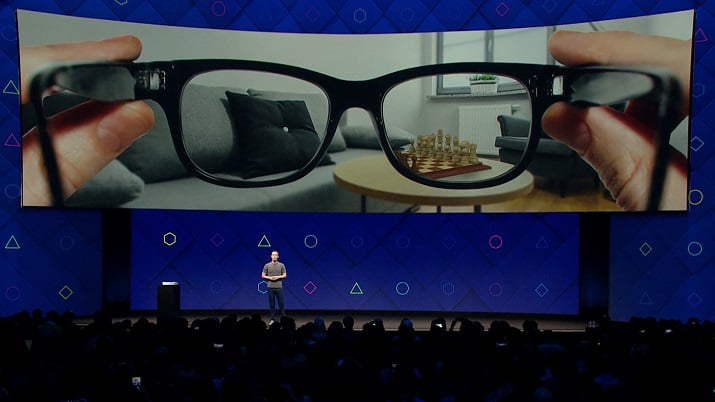 Facebook CEO Mark Zuckerberg discusses the new augmented reality platform at the Facebook Developer's Forum. Image credit: Facebook
At this week's Facebook Developer's Conference, the social media giant announced its Camera Effects Platform allowing third party's to build augmented reality tools for the camera and to offer new ways for people to communicate.
Facebook's idea is generated from the fact that many people use cameras on their phone to write text on images, add digital objects and modify photos with face filters and style transfers. Adding an augmented reality aspect continues this trend.
Facebook is offering a suite of tools to developers to create a new range of effects for the Facebook camera, from simple photo frames to interactive effects and masks using the latest AR technologies. The platform includes two products: Frames Studio and AR Studio. Frames Studio is an online creative editor available now that gives users the ability to design frames to be used for profile pictures or in the new Facebook camera. The AR studio is in beta testing but will be used to create masks, scripted effects, animated frames and other AR technologies that react to movement, the environment or during live video.
During the conference, Michael Abrash, chief scientist of Oculus research, shared Facebook's vision for a path to full augmented reality that includes a device that has enhanced vision and hearing while being lightweight and comfortable as well as socially acceptable enough to bring everywhere.
This can only be done with the rise of virtual computing, Abrash says, which includes both virtual and augmented reality. While this technology is in its beginning phase, Facebook sees a future where virtual computing becomes a part of everyday life much like the smartphone.
For this to happen, see-through augmented reality will need to be developed that will likely be transparent glasses that can show virtual images overlaid on the real world. Facebook says the technology to reach full AR does not exist yet and will take a decade-long investment, including the advancement of technologies in material sciences, perception, graphics and many other areas. But once that happens, it will potentially enhance every aspect of people's lives, Facebook says.