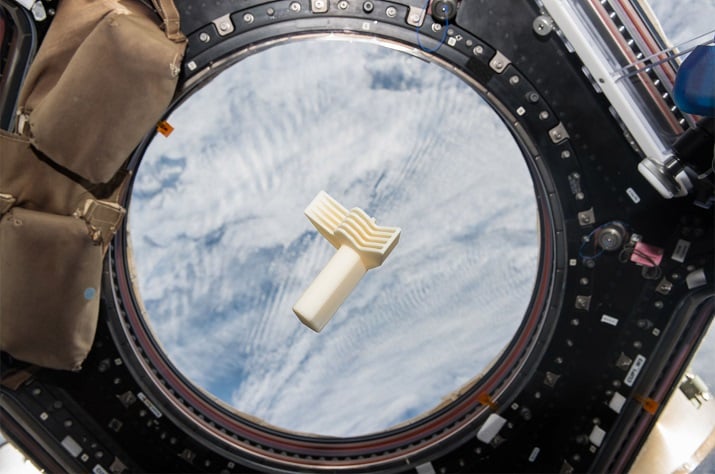 The 3-D printed device allows astronauts to launch femtosatellites in zero gravity. Image credit: Mouser
The winning design in the International Space Station (ISS) Design Challenge, sponsored by Mouser Electronics Inc. and Grant Imahara, is now in orbit after being 3-D printed in space.
The design, created by engineer Andy Filo, is a device that allows astronauts to launch femtosatellites—tiny satellites about the size of a postage stamp and weighing less than 100 grams—in zero gravity. These femtosatellites can be used by scientists and astronauts to monitor disasters, study Earth's environment and even fly in formation to create a giant antenna for deep space analysis.
The design was chosen from 242 entries and digitally transmitted to the ISS, where it was 3-D printed on April 3 by Made In Space's Additive Manufacturing Facility (AMF), the first commercially available off-world manufacturing service and only 3-D printer adapted for use in the vacuum of space.
Made in Space and Filo made last-minute modifications to the design to increase usability and comfort as well as increase printing speed.
Mouser plans to release a video of the ISS Design Challenge as part of its Empowering Innovation Together series hosted by celebrity engineer Grant Imahara. The Design Challenge is one of a series of programs from Mouser with projects ranging from bringing superhero technology to life, 3-D printing semi-autonomous car with drone technology and drone search and rescue projects.