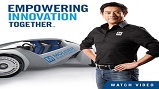 Electronics distributor
Mouser Electronics
 Inc. is teaming up with Local Motors and celebrity engineer Grant Imahara to build a fully transforming vehicle cockpit for 3-D-printed autonomous vehicles. It is the latest series from Mouser's highly popular 
Empowering Innovation Together
™ educational program.
A new video previews the exciting 3-D project. The build will focus on reimagining the interior of the Local Motors Strati, the world's first 3-D-printed vehicle, to highlight the extraordinary possibilities with autonomous car design. Features of this innovative build will combine electronic components from Mouser's valued manufacturer partners and Platinum Sponsors of the series, Maxim and Murata.
The design, created by Finn Younkers of Rhode Island, features a drone mounted on the rear of the vehicle that, when launched, gives the driver an unprecedented bird's-eye view of the surroundings. Younkers' design was chosen as the winner of the Local Motors Challenge.
"Local Motors already had most of the technology to make the autonomous vehicle figured out. This project was about taking it to the next level," said Imahara in a statement. "To do this we called on the imaginations of engineers all across the world."
"The Local Motors approach to direct digital manufacturing and the ingenuity of our co-creation community means that we have the ability to partner with cutting-edge suppliers like Mouser Electronics to bring innovations to life at unprecedented speeds," said Local Motors co-founder and CEO John B. Rogers, Jr., in a statement. "The Mouser Strati offers a glimpse into the future of autonomous driving right now."