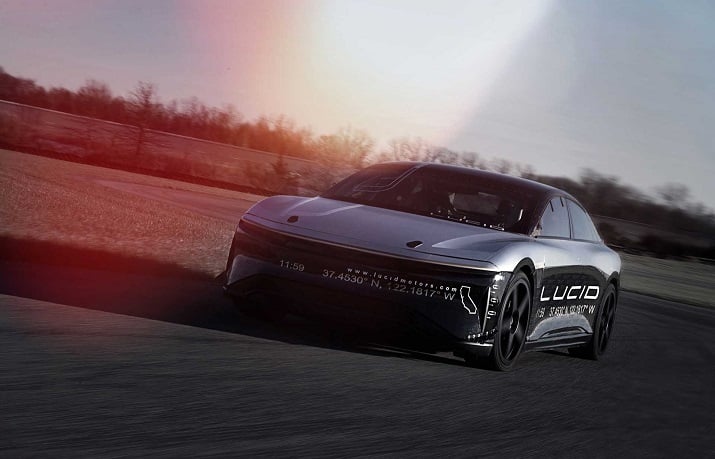 Lucid transformed an Air electric vehicle into a high performance car enabling it to achieve top speeds. Image credit: Lucid Motors
Electric vehicle start-up Lucid Motors has finished its first speed test on its Lucid Air prototype achieving a speed of 217 mph, putting it well in range of its main competition Tesla Motors.
The test prototype was modified to a high-performance testing vehicle and Lucid installed a roll-cage for safety. The speed test was conducted on a 7.5-mile test track in Ohio in order to evaluate the behavior of the electric vehicle at high speeds such as stability and powertrain thermal management.
Lucid Air was able to achieve the 217 mph speed successfully and Lucid was able to monitor the areas that need improvement that could not be benchmarked by static bench tests, the company says.
These tests are important because it allows engineers to properly correlate computer simulation models with the performance of the vehicles in a real-world scenario, Lucid says. The data will be used to finesse thermal and aero computer simulations in order to make performance improvements that will be tested later this year at even higher speeds.
Lucid is one of a myriad of car upstarts that have taken electric vehicles and autonomous driving as a mantle to enter the highly competitive car market that has traditionally been dominated by just a handful of companies.
As with other start-ups, Lucid has plans to build its own production facility for its EVs selecting Casa Grande in Arizona for its factory late last year. Lucid says it will break ground on the new facility in the first half of this year with production slated to begin in 2018.