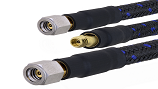 Pasternack has released four new 1.0 millimeter flexible cables designed to deliver precision testing results for Vector Network Analyzer (VNA) testing, semiconductor probe testing, automotive radar testing and military radar testing. They are suited for applications such as test benches, radar, microwave radio and millimeter wave radio.
The flexible VNA test cables operate at up to 110 gigahertz and deliver precise results for testing using a coaxial cable and 1.0 millimeter stainless steel connector interfaces. The coaxial cable is covered by a non-conductive Nomex® outer sleeve. This light-duty armoring protects the small, 0.27-inch diameter cable and improves stability during flexure. These cables feature 50 ohm impedance, a maximum voltage standing wave ratio of 1.5:1, and good phase/amplitude stability under flexure. 
The test cables operate from negative 65 degrees Celsius to positive 125 degrees Celsius. They are restriction of hazardous substances (RoHS) and registration, evaluation, authorization, and restriction of chemicals (REACH) compliant. Each cable assembly is fully tested and comes with serialized test data. These cables are available in standard 6 inch and 12 inch lengths with male-to-male or male-to-female configurations.
The cables are in-stock and ready for immediate shipment with no minimum order quantity.