Flexible polymer optic fibers developed at Empa (Swiss Federal Laboratories for Materials Science and Technology) can be fully integrated into textiles that may be used in the fabrication of medical health sensors or sports clothing. Potential application of the melt-spun fibers was demonstrated by incorporation into a photonic textile-based sensor for continuous monitoring of heartbeat and blood flow.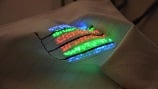 The textile sensor was tested in the form of a hat measured heart rates on test subjects' foreheads. The fibers send light through the tissue and by measuring the light intensity that changes with the pulse as it returns to the detector, heart rate can be determined. The sensor merely needs to lie on bare skin as it measures the reflection of light, so it can be used on any part of the body.
The research was conducted in collaboration with the research institute CSEM, Zurich University Hospital, and the Swiss Paraplegic Center in Nottwil.