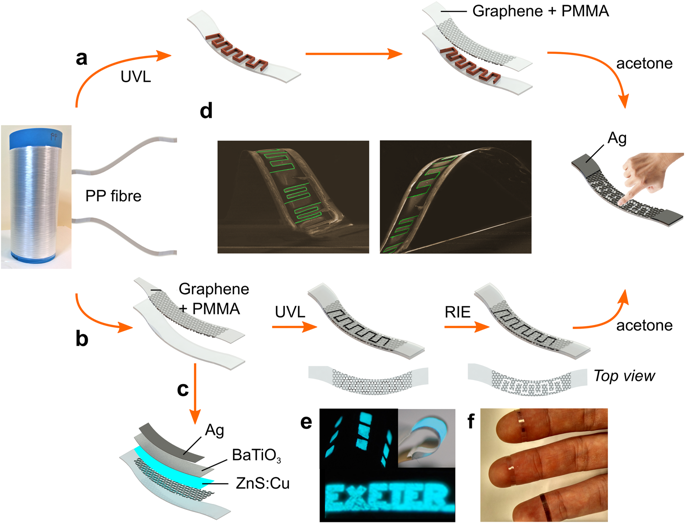 Schematics of the step-by-step process to produce touch-sensing devices with a lithography process compatible with roll-to-roll manufacturing (a) and conventional lithography and etching process (b). SEM pictures of the bent touch sensors are shown in (d) with the gap between graphene electrodes highlighted in green. Schematic and photos of light emitting devices are shown in (c) and (e). Photos of touch sensors are shown in (f). Source: University of Exeter
Textile-based wearable electronics are typically fabricated by gluing devices to fabrics, which can mean they can be too rigid and susceptible to malfunctioning. A new method pioneered by an international research team yields fully electronic graphene fibers that can be incorporated into the production of everyday clothing.
The technique integrates electronic devices into fabric by coating electronic fibers with light-weight, durable components that will allow images to be shown directly on the material. The development could expand applications in health monitoring, medical diagnostics and other areas.
Polypropylene fibers commonly used in a host of commercial applications in the textile industry were applied to attach the graphene-based electronic fibers for the design of touch-sensor and light-emitting devices. Both types of wearable sensors were fabricated using methods that are compatible with roll-to-roll and printing techniques, highlighting the potential for these to be scaled up and meet industry requirements. The touch sensors patterned using a roll-to-roll-compatible process were demonstrated to outperform those fabricated with conventional lithography.
Fabrics can now incorporate wearable displays without the need for electrodes, wires or additional materials.
Scientists from University of Exeter (U.K.), University of Aveiro (Portugal) and Centexbel (Belgium) contributed to this research, which is published in Flexible Electronics.