The technology known as e-textiles (also called smart clothing or smart fabric) incorporates electronics and components into different fabrics and it is envisioned that one day it will be used in ordinary garments.
According to marketing research company IDTech Ex, the e-textile market is anticipated to reach $3 billion over the next 10 years. The integration of electric and electronic fibers into textiles has already begun to take hold in the recent past. Currently groups are even modifying the technology in an attempt to make it more versatile and efficient than its current form by creating photovoltaics, supercapacitors and batteries that are already in the form of fibers.
The e-textile industry involves incorporating materials like carbon nanotubes and piezoelectronics into textile structures to provide more capabilities.
So what will it take for us to one day wear electronic clothing?
Smart clothing is not "new" and the materials used to create such products have been around for hundreds of years, but the technology is evolving—even in just the past 30 years. Back in 1985, an inventor by the name of Harry Wainwright was the first to create an "animated shirt" in which a microprocessor controlled individual frames of a cartoon on the surface of the textile. From there, MIT researchers developed a wearable motherboard, and companies like Hexoskin have come up with some commercial biometric applications for the wearable technology.
But recently, a group of researchers from Umeå University in Sweden, led by postdoc at the University's department of physics, Thomas Lanz, made a breakthrough in the e-textile industry—creating a lightweight, ultra-flexible fabric capable of emitting light.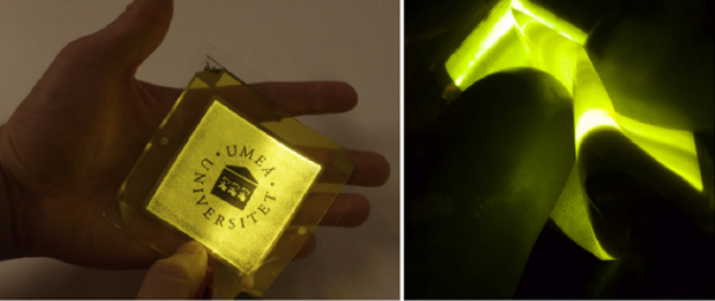 (Left) An operating LEC textile device featuring a light-emission area of the Umeå University logo. (Right) An operating ultra-flexible and lightweight LEC textile. (Image Credit: Lanz et al./2016 IOP Publishing Ltd.)
The newly developed textile is capable of releasing an incredibly bright and even yellow light for over 180 hours—one whose productivity and luminescence actually increase over time.
According to Lanz, for us to walk around with clothing that emits light, it will require "an encapsulation that preserves the organic materials from oxygen and water, and that retains the flexibility and the haptic feel."
While first applications for the Umeå team's work may not be intended for large-scale areas like this, Lanz envisions that it could soon be used on clothing for visibility purposes.
"But I'm optimistic that once the clothing designers pick this up, we will see fascinating things—beyond the imagination of a physicist," Lanz adds.
Currently one of the key application areas the team is exploring involves wearable light-emitting devices for medical applications.
How They Did It
Lanz and the team created the ultra-flexible light-emitting fabric by spraying a coating of light-emitting electrochemical cells (LEC) onto a conductive fabric electrode. The fabric worked like the anode of the LEC, while a thin layer of aluminum on the back acted as the cathode.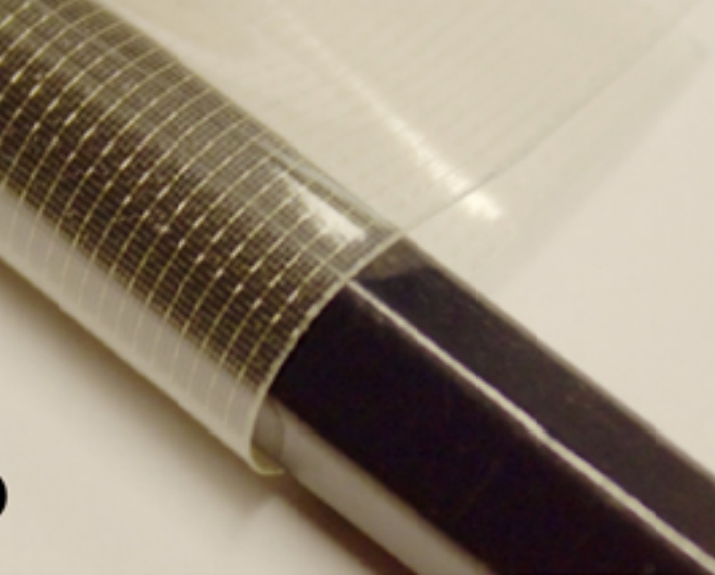 Photograph of the fabric-based electrode, demonstrating its flexibility by being wrapped around a pencil. (Image Credit: Lanz et al./2016 IOP Publishing Ltd.)
"The very high conductivity of the fabric electrode makes it possible to attain uniform and bright-light emission over an area of almost 50 square centimeters," said Lanz.
Now that they have made it this far in their light-emissive textile exploration, the researchers are considering scaling up their project to make the technology functional on larger areas, or even make it semi-transparent.
"I'm quite optimistic that we'll see wearable light-sources for medical or security applications based on this technology," Lanz commented, regarding the future of the textile.
One personal application he looks forward to as a cyclist is a fashionable and bright-light-emitting jacket made possible by organic emitters.
Other Research
The Umeå team is not the only one working to further the field of smart textiles. Research groups worldwide are incorporating other functionalities into fabric as well. For example, researchers from Nottingham Trent University's Advanced Textiles lab have embedded electrical heating elements, NFC chips and photovoltaic cells into knit structures. One example of this is the group's self-heating balaclava (a garment worn around the face exposing only certain parts).
E-Textiles for Projects
If you scour the Internet, you will find a variety of conductive fabrics for use in e-textile projects, as well as products like rainbow LED strips that can be sewn into clothing or components such as electroluminescent (EL) panels, which can be applied to most articles of clothing to add light to anything.
If you are interested in toying with your own smart clothing, there are a variety of kits out there. LilyPad offers a set of sewable electronic pieces designed to help you build soft interactive textiles. Kitronik focuses on design and technology that provides a variety of kits, as well as projects and learning resources.
Though you may not find yourself creating a breakthrough e-textile like Lanz and the team, you may enjoy tinkering with the rising technology.