Stain resistant clothing impervious to dirt and oil. Photonic textiles that change color based on the amount of ambient light. Smart fabrics capable of monitoring heart rate.
Fabrics engineered at the nanoscale level may have special properties like these that could revolutionize the clothing industry.
Enhanced Properties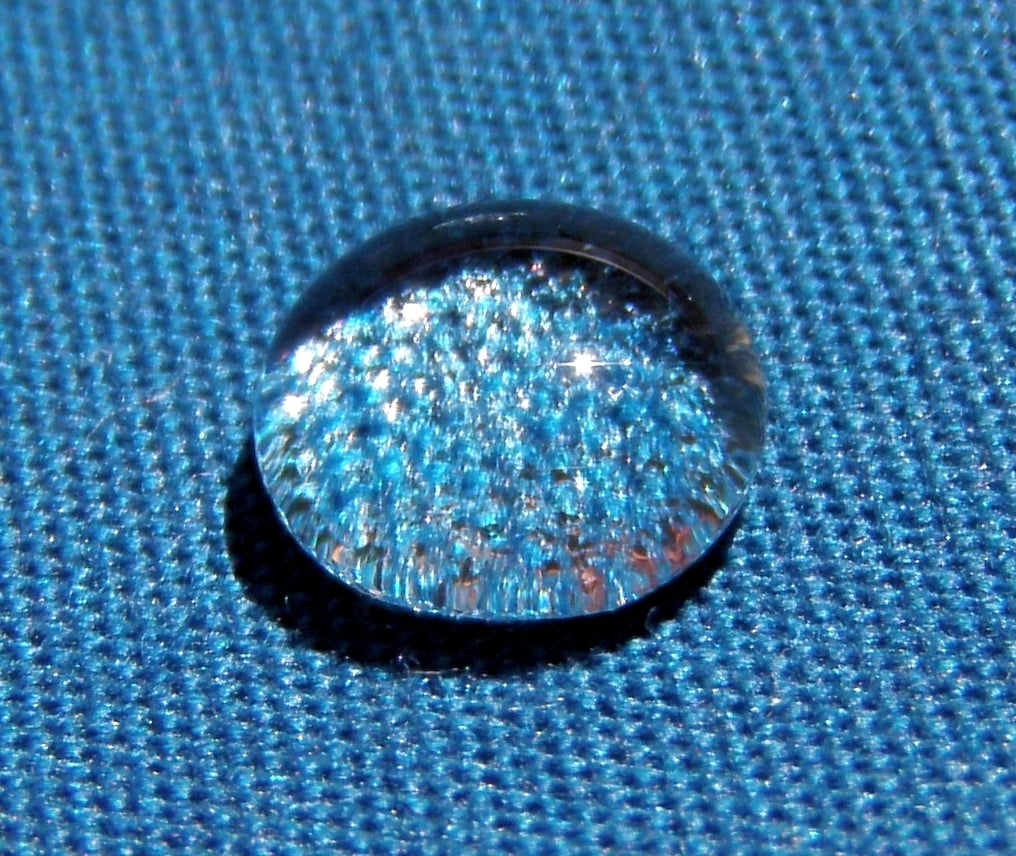 Water repellency can be imparted to fabrics through the use of silica nanoparticles or nanowhiskers. Credit: Brocken Inaglory / CC BY-SA 3.0
Stain resistance and water repellency are just two of the enhanced properties nanotechnology can offer. These characteristics can be realized by spreading silica nanoparticles through a fabric. The silica creates high contact angles with water and oil droplets, repelling the liquids.
Another approach makes use of nanowhiskers comprised of hydrocarbons three orders of magnitude smaller than cotton fibers. The nanowhiskers produce an effect similar to peach fuzz, repelling water and oil by generating high surface tension that keeps water droplets on the surface instead of spreading out and absorbing into the fibers. This is possible because individual whiskers are smaller than water droplets but larger than water molecules.
Other qualities nanotechnology can enhance include resistance to static electricity, wrinkles, ultraviolet radiation and odors. Anti-static properties can be achieved by incorporating electrically conductive nanoparticles throughout clothing. Zinc oxide, titanium dioxide or antimony-doped tin oxide nanoparticles dissipate the static charge that builds up on the fabric.
Wrinkle resistance can be imparted by using titanium dioxide nanoparticles and a carboxylic acid catalyst to form cross-links between the textile's cellulose molecules and the acidic groups. The cross-links allow the fabric to remain pliable without forming creases.
UV blocking can be accomplished by integrating titanium dioxide or zinc oxide nanoparticles in clothing to absorb and scatter ultraviolet radiation, preventing sunburn. Finally, antibacterial and odor resistance can be realized through the use of silver nanoparticles that interfere with bacterial cell function and limit the growth and proliferation of odor-causing microbes.
Electrical Conductivity
Textiles that conduct electricity enable the integration of sensors or actuators into clothing. Electrical conductivity can be imparted by incorporating dopants such as the conductive polymer polyaniline (PANI) into textiles or by using polyelectrolyte coatings with multi-walled carbon nanotubes (MWCNTs) to create a charge transport network. Electrically conductive fabric made of woven graphene has also been created, and cotton has been made conductive by depositing graphene into it.
The direct generation or storage of electricity in textiles could provide the power necessary to operate sensors or actuators integrated into clothing. Fabric supercapacitors have been created with various processes including one made out of carbon nanotube fibers electrodeposited with PANI and coated with gel electrolyte. Fiber batteries such as flexible stripe Li-ion batteries could be woven into clothing to provide power for LEDs, electroluminescent wires or shape-memory alloys.
These power sources could be used to power other electronic components embedded in clothing such as digital components like OLEDs and Schottky diodes that have been fabricated directly on textiles.
Photonic Materials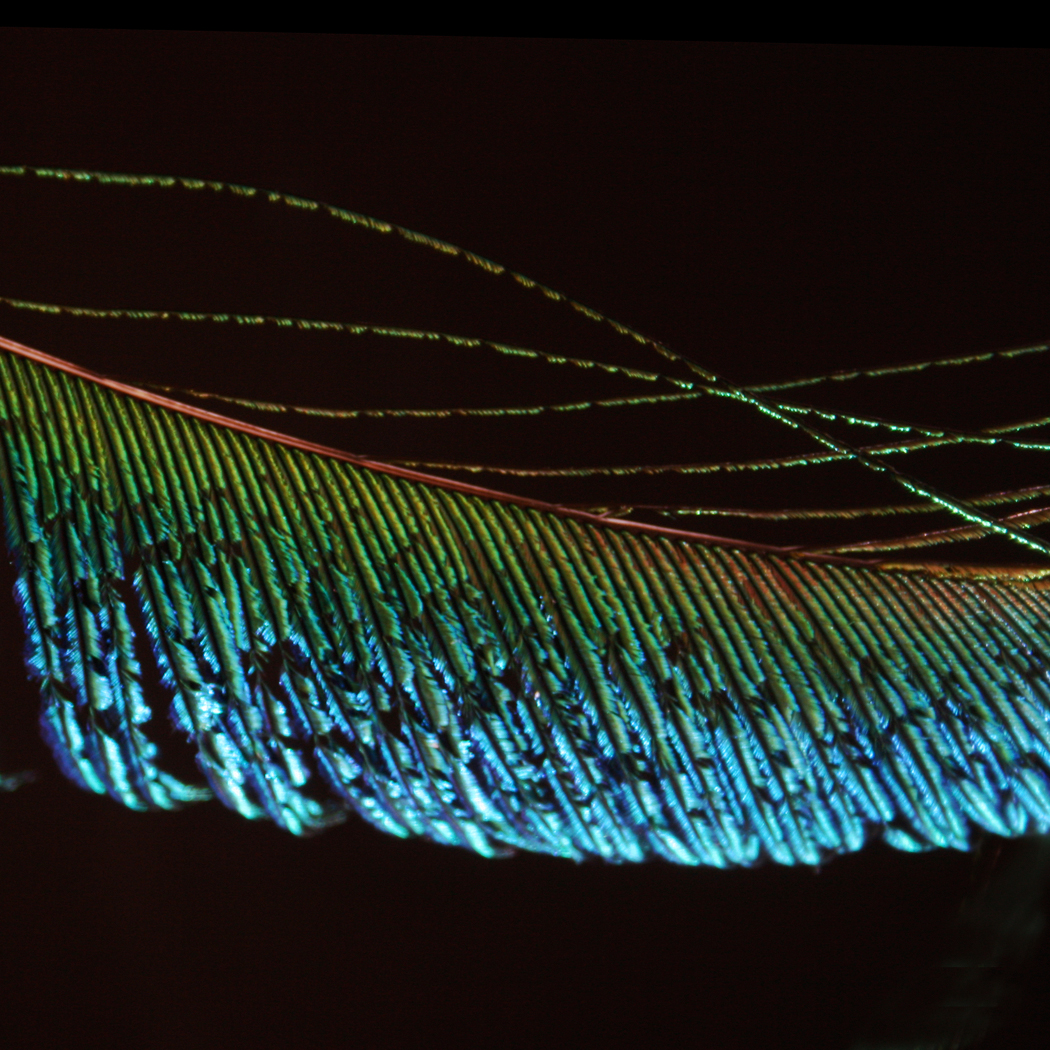 Bragg fibers integrated in clothing can create iridescent, shimmering visual effects similar to peacock plumage. Credit: CC BY 2.0 / Gordana Adamovic-Mladenovic
Optical technologies can be incorporated in fabric to enhance the appearance of clothing. Photonic materials such as films, nanoadditives and optical fibers can alter the colors, light patterns and brightness of clothing. Thermochromic and photochromic inks change color in response to variations in heat and illumination in the surrounding area. Photonic textiles with integral woven Bragg fibers change color depending on the amount of light illuminating the fabric. Various colors can be imparted to the fabric by coating cotton fibers with plasmonic silver, gold and ruthenium nanoparticles.
Sensing Technologies
A range of sensing technologies can be integrated in clothing. Plasmonic optical fiber sensors integrated in clothing have the potential for high sensitivity biochemical sensing. Touch- and pressure-sensitive fabrics with flexible fiber capacitors can sense the touch of a finger due to modified local electrical flow.
Temperature and humidity sensors have been integrated into fabrics as well. To accomplish this, silver nanoparticle ink was deposited on polyimide sheets with an inkjet printer. Sensing mediums were then sprayed on and capped. The sensors were woven into the textile along the weft direction with conductive fibers along the warp direction. Combined with LEDs, the fabrics could provide visual indication of temperature and humidity.
Smart fabrics with integral sensors and communication capabilities could find applications in the sports, fitness and healthcare industries. Physiological parameters like heart rate, blood pressure and respiration rate could be monitored and the data transmitted over the internet to be stored in the cloud for immediate or later analysis.
Safety Concerns
Nanotechnology has ample potential to enhance the clothing we live, work and play in, but it is not without its drawbacks. Nanomaterials face some safety concerns. Fabrics impregnated with silver nanoparticles could shed some of the particles, particularly during wash cycles, introducing the material to the environment where it could interfere with aquatic life cycles or promote antibacterial resistance. Nanoparticles could also be absorbed into the body with unknown consequences. More research is needed to determine safe levels of exposure.
Despite the risks, work on applying nanotechnology to the clothing industry will continue, resulting in innovative products that advance the state of the art in wearable textiles.
Resources